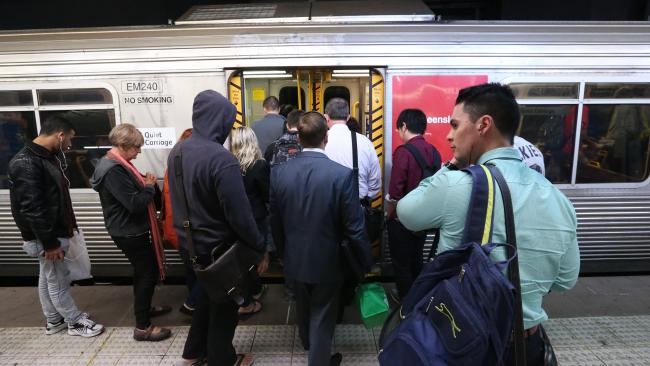 New laws January 1: Vaccination, drug prices, public transport, student loans
As revellers clean up from New Year's Eve celebrations, the last thing anyone wants to think about are the new laws, rules and policies that come into effect on January 1.
Here's a few things you'll need to look out for in the new year.
Public transport
The Queensland Government will put off an increase in the cost of public transport in southeast Queensland until the middle of 2016.
Fares across the Translink network were due to increase by 2.5 per cent in January.
Transport Minister Stirling Hinchliffe said the State Government would instead wait for a taskforce to complete its review of the entire fare system.
Toll roads
Motorists will pay higher tolls on a major Brisbane arterial road from today.
While the government says Queenslanders will be spared major increases to most fees and charges, Airportlink users will fork out more for tolls.
A daily car commuter using the tunnel between Bowen Hills and Kedron will pay an extra $3.80 per week — or an extra $180 a year.
Other toll roads, including Clem7, Logan and Gateway motorways and Legacy Way, do not have increases until the start of the next financial year. But in May the discounted period for Legacy Way will end, which will see its toll rise 20 per cent, from $3.90 to $4.85.
Vaccinating your kids
Parents who refuse to vaccinate their kids will be denied up to $15,000 a year in childcare rebates and welfare under tough new rules which take effect today right across Australia.
The so-called No Jab, No Play rules were supported by both sides of the Federal Parliament.
Under the new laws the ''conscientious ­objector'' loophole will be closed. Previously this allowed parents with an objection to vaccination to opt out. The rules will not apply when there is a proven medical reason for not vaccinating.
Parents who fail to immunise their children will no longer be paid the $200-a-week childcare benefit, the $7500-a-year childcare rebate or the $726 Family Tax Benefit A annual supplement.
The combined childcare and welfare payments at risk could amount to up to $30,000 a year for a family with two young children.
Drugs from the chemist
Changes to the Pharmaceutical Benefits Scheme (PBS) take effect from today, with about 17 items being removed from the schedule.
The drugs are:
antacids (eg Gaviscon, Mylanta and Gastrogel)
paracetamol (eg Panamax, Panadol Osteo)
iron tablets (eg Ferro-Gradumet)
aspirin — pain and blood-thinning products
B12 injections
hydrocortisone creams and ointments
folic acid tablets (eg Megafol)
Under the PBS, the government subsidises the cost of medication for most medical conditions.
The items removed are among the cheaper items on the schedule.
Paracetamol is the fourth most prescribed drug on the PBS.
The Government expects to save $80 million per year which will be shifted to other newer drugs.
The changes are expected to hit the pocket of older customers the most, with many retirees and nursing home residents relying on the removed medications for daily pain management.
The new rules mean pharmacies can offer a $1 discount on PBS prescriptions to help offset the impact, but that in turn means customers will take longer to reach their Safety Net threshold.
Under the current Safety Net rules, when a customer reaches 60 concessional prescriptions at $6.20 each for the year, their prescriptions are free of charge for the rest of that year.
Repaying your student loan
From today, people who have benefited from Australian student loans and now live overseas will pay for them the same way as they would if they lived in Australia.
Minister for Education and Training Senator Simon Birmingham said it was estimated that up to $30 million was lost annually due to graduates moving overseas and from today those graduates would be required to notify the Australian Taxation Office to arrange repayments.
Minister Birmingham said recouping debts under the Higher Education Loan Programme or Trade Support Loan scheme would ensure Australia's world-class, income-contingent student loans scheme was fairer and more sustainable into the future.
Nanny subsidy program begins
The two-year Nanny Pilot Programme, which starts from January 2016, will provide an hourly subsidy for about 10,000 children to help families meet the cost of using a nanny. It will support families who find it difficult to access child care services because they work non-standard hours, or live in remote areas or away from existing child care. For each child, successful families will receive a percentage of the $7 hourly subsidy. Families earning up to $60,000 are eligible for $5.95 per hour per child, and families earning between $165,000 and $250,000 are eligible for $3.50 per hour per child. The program is not intended to fully subsidise the cost of a nanny.
New caps on superannuation income
From today, the deductible amount for you and your partner's defined benefit income streams will be capped. The deductible amount of a defined benefit income stream is also known as the tax free component. A defined benefit income stream is a pension paid from a public sector or other corporate defined benefit superannuation fund where the pension generally reflects years of service and final salary. The government uses the income you receive to assess your eligibility for payments and other entitlements. The income they assess from defined benefit income streams may be reduced by the tax free component. This change will impact income support payments, Low Income Health Care Card, and aged care fees.
Residential, rental care changes
Rental income will be included in the aged care means test for all new Residential Care recipients and some existing Residential Care recipients from today. Currently, rental income from a Residential Care recipient's former principal home is included in the aged care means test if they make lump sum accommodation payments. It is not included if they make periodic accommodation payments or a combination of periodic and lump sum accommodation payments. Residential Care recipients, entering care after January 1, 2016, will have rental income from their former principal home included in the aged care means test. See the Human Services website for more information.
Post costs
Stamps will rise from 70 cents to $1 on January 4 after Australia Post got approval to increase the price of regular postage stampsfrom the Australian Competition and Consumer Commission.
The price hike comes as the nationa's postal service faces less need for delivering mail and decreasing revenues.
Incentives to find work
From today, school leavers 15 to 21 years of age will be given greater incentives to study or work. This will include requiring early school leavers to meet their activity test requirements of 25 hours per week until they get a Year 12 or Certificate III qualification or turn 22, or requiring early school leavers to look for work if they are not in fulltime study, or are not in a combination of study and part-time work for 25 hours per week.
Passports
From January 2016, child applicants aged 16 or 17 will be issued with 10-year passports instead of five-year passports, which will cost $254, the same cost as an adult passport.
Source : Courier-Mail