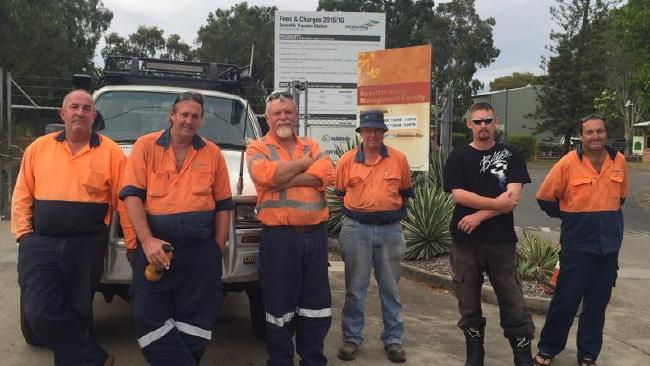 Moreton Bay Regional Council steps in to pay Subloos workers at Redcliffe Transfer Station
Workers  at the Redcliffe Transfer Station at Clontarf blocked entry to the tip this morning over pay and safety concerns.
The site, which has now reopened, is owned by Moreton Bay Regional Council, but operated by contractor Subloos.
Mayor Allan Sutherland said the council would pay about 20 workers, who work for contractor Subloos, the fortnight's pay due to them, but could not guarantee their next pay.
Subloos CEO Darryl Subloo has been contacted for comment, but has not yet responded.
Cr Sutherland said there had been safety concerns — exposed asbestos, bald tyres on trucks, and improper use and storage of chemicals — at the Duffield Rd site for some weeks, but the pay issue arose on Australia Day. He said MBRC was investigating the safety issues.
Transport Workers Union (QLD) waste industry co-ordinator Troy Fernandez said management inaction, and safety concerns, forced workers to block the entrance to the site today to prevent "unsafe" vehicles from heading out.
"When a tyre is so bald that there are pieces of rubber starting to come off it, and management is still pushing people to drive that truck, it shows an absolute disregard for human life," Mr Fernandez said.
"We've tried to sort these issues out by working with the company but now they've flat out refused to do anything about these outrageous safety breaches — we know that action is needed before someone gets killed."
Mr Fernandez said he was happy MBRC agreed to pay the workers their owed wages and review the suitability of the contractors to continue at the site, but it was a temporary fix.
"These guys may not have a job in a fortnight," he said.
"Council have allowed this to happen ... their auditing processes are so poor; it should never be allowed to happen again.
"If the company keeps the contract, we want council to make sure it is safe for the people who work here and for the people that share the road with them around Redcliffe and Moreton Bay.
 "It's not all about pay ... it's about making sure these workers go home safely at the end of each day."
Cr Sutherland said "there's no winners in this at the moment — not council, not the employees, not the public".
"Subloos have said they will be OK to pay the next one, but that is yet to be seen," Cr Sutherland said.
Cr Sutherland said the payments, which council was not obliged to pay but had agreed to because the workers had provided a service to ratepayers, would not come out of ratepayers' pockets. It will come from a bond paid to council by the contactor.
He said the council was following the legal processes required to ensure the region's rubbish was disposed of in an appropriate manner; he said external contractors — trucks and drivers — had been hired temporarily because Subloos trucks did not meet necessary safety standards.
Cr Sutherland said council would take a stronger stance in the coming week if the Subloos issues were not resolved, but that could mean workers could lose their jobs.
"We have had good discussions with Subloos and the union ... how long the situation will stay good, I do not know," he said.
"There's nothing else we can do at the moment; if we have to withdraw them from the site and put someone else in, another contractor will bring in other employees ... I really hope we can resolve this for the workers' sake.
"The best outcome is that all employees get paid and the contract carries on.
"We're onto it, we won't be letting this go."
Cr Sutherland said residents needed access to the facility and it was up to council whether it was opened or closed, not Subloos.
Source: Quest News