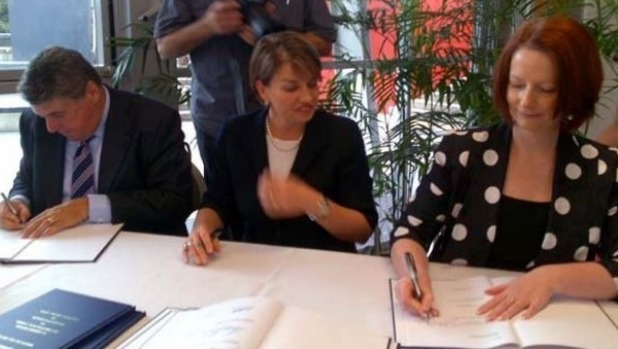 Moreton Bay Region Rail Link 100 years in the making to be running by Ekka 2016
It has been 100 years in the making but passengers will finally be able to catch a train from the Redcliffe Peninsula to the heart of Brisbane within six months.
A photograph taken on December 3, 2010, shows where this final successful attempt started five years ago.
It shows then-prime minister Julia Gillard signing an agreement with Moreton Bay Regional Council mayor Allan Sutherland and then-premier Anna Bligh.
Murrumba MP Chris Whiting and young son, Guy, at the new Kippa Ring train station Photo: Petrie to Kippa Ring rail line
The federal government agreed to contribute $742 million, the Queensland Government $300 million and Moreton Bay Regional Council $105 million to the project.
That day the trio promised new stations at Kallangur, Murrumba Downs, Mango Hill, Kinsellas Road and Kippa-Ring to finally bring 600 trains a week to Redcliffe.
That night, Ms Gillard attended a community cabinet meeting in Petrie and Labor's then-MP for Petrie Yvette D'Ath had been able to announce the deal with the three levels of government, meaning the rail line would go ahead.
And now, just over five years later, all governments have abided by the 2010 promises.
Acting Premier Jackie Trad on Wednesday morning formally "switched on" 25,000 volts of electrical current to allow the all-important commissioning and testing phase to begin.
"A project like this, that will see 600 new trains go from the Redcliffe Peninsula to the city CBD every week, is a fantastic initiative for workers in this area," Ms Trad said.
New Transport Minister Stirling Hinchliffe said trains with passengers should be running by midyear and definitely by the Ekka in August.
"Certainly it is still our intention to have the stations open and the trains operating and people enjoying the benefits of the Moreton Bay Rail Link by the middle of 2016," Mr Hinchliffe said.
"At this stage I'm pretty confident that then we will have them coming back to Kippa-Ring train station with their showbags in hand."
The six stations are either complete or almost complete, and for the past six months the local communities have been helping design car parks linked to the stations.
More than 350 koalas have been shifted as bushland was cleared and were being reintroduced to the remaining bushland in the nearby areas.
Four trains will be tested daily on the tracks as the electrification commissioning progresses.
But Wednesday's announcement that 25,000 volts of electricity was running through the overhead electrical wires came with a safety warning from Moreton Region's mayor Allan Sutherland.
"Mums and dads, keep your kids away from the stations," Cr Sutherland said.
"They are live from today. This is a real working station. The only thing missing is the people," he said.
"And that is going to follow very shortly.
"So mums and dads, if you hear your kids say, 'We're going to go down and play at the station', the answer is 'No, this is a live station.' "
 The Moreton Bay Rail Link from Petrie to Kippa-Ring includes:
14km of double track rail from Lawnton to Kippa-Ring
a rail connection to the Caboolture line
22 bridge structures to provide grade separation of road and rail, including over the Bruce Highway
Six new rail stations including bus interchanges and bike storage
2850 car parks
Stabling - including train crew facilities - for 10 six-car trains in the vicinity of Kippa-Ring Station
3m wide concrete shared path for cyclists and pedestrians along the entire length of the corridor.
The Moreton Bay region is one of the fastest-growing in Australia with the population of 375,000 tipped to reach 500,000 by 2031.
Over 80 per cent of people in the region (83 per cent) use a private car drive to work each day.
Source: Brisbane Times