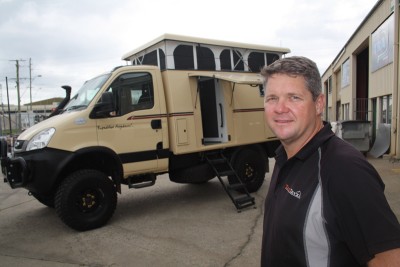 Moreton Bay Region Local businesses sold on innovation
Solar, trucks, rust, wax, golf, software and bees.
They are some of the buzzwords from local businesses vying for Moreton Bay Region Innovation Awards, to be announced at a gala awards event at Caboolture on 5 February.
Featuring six categories, the business awards have been established to celebrate innovative products and technology that has emerged from Moreton Bay region.
Eleven of the 67 entries submitted for the awards, which features a $20,000 prize pool, are from entrepreneurial enterprises in The Westerner area.
Brendale business TravelTrucks specialises in transforming standard Iveco four-wheel drive light trucks into custom-built off-road campers and expedition vehicles.
Its ScrubMaster Expedition model, an off-road motor home "built for adventure, work or play", is a finalist in the Established Innovation Category of the awards.
Another of Col Gilliland's projects, a vehicle self-recovery system utilising a winch that can be accessed from the front or rear of vehicle, has also been shortlisted for an award.
Other finalists are Fathom HQ of Albany Creek, providing real-time financial reports for small businesses, and Synergy 8 Digital Marketing Software of Warner and its online marketing software for businesses.
Swinging out of Brendale is the Golfkeeper app, described as the world's first real-world multiplayer golf scorecard with
a database of over 33,500 golf courses, and the Gidget Retro Teardrop Camper.
Green Frog Fragrances of Arana Hills is believed to be the only business to make soy wax melts used in oil burners, while Bob Luttrell of Highvale has developed the Beeright Stingless Bees Honey Frame.
Olivier Fillon of Cedar Creek developed My Reading Eyes, a smart phone app that helps vision impaired people to read, while organic rust remover gel developed at Samford Valley provides a safe alter-native to acid-based rust converters.
Trevor Powell of Highvale is a finalist for solar thermal technologies that capture the heat of the sun to power agricultural, industrial and mining processes.
The ScrubMaster Expedition and Gidget Retro Teardrop Camper have also been shortlisted for the People's Choice Award.
Vote at www.moretonbayinnovationawards.com.au before 5 February.
Source: The Westerner