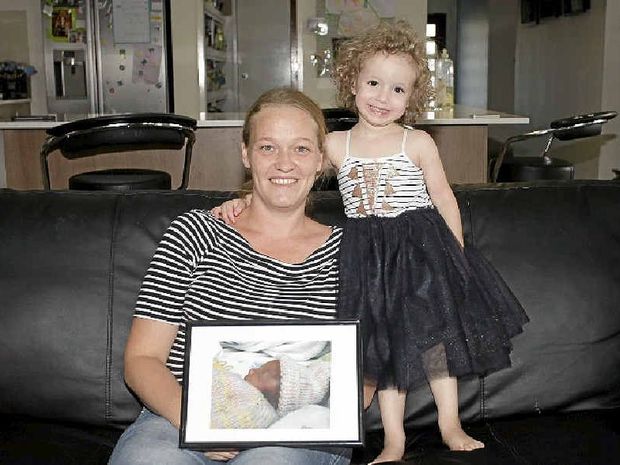 Cuddle Cot to be donated to Caboolture Hospital because Time is a precious gift
Camilla Francois and her husband Andrew have lived through every parent's worst nightmare.
Nineteen weeks into their first pregnancy, doctors picked up an irregularity with their baby's heart.
"The left side of the heart was significantly smaller than the right side of the heart," Camilla said.
The couple were given three options.
"We could go full term and she would last a day or two and suffer in the process," Camilla said.
"We could discontinue the pregnancy and still have a baby, although a lot younger but with less pain. Or we could have gone to Melbourne (a few weeks later), I would have had a caesarean and they would have attempted heart surgery."
If their baby girl survived the surgery, she would be in and out of hospital for her whole life.
"I couldn't bear the thought of her not being able to play and do things. So we made the choice to not to continue with the pregnancy, which was the hardest decision of my life," Camilla said.
Baby Ella was born and lived for 32 minutes and died in her father's arms.
"She looked perfect on the outside. It was just the inside that was significantly damaged," Camilla said.
Camilla hopes to give other parents in the same situation the gift of time. She is fundraising for a Cuddle Cot to be donated to Caboolture Hospital, with a hefty price tag of $4000.
"(A Cuddle Cot is) a mat that goes into any cot. It has a cooling element and it maintains a constant temperature so the body is cooled," Camilla said.
Designed for stillborn children and infants like Ella, a Cuddle Cot allows families more time with their child.
"It gives you the chance to get some more photos and spend more time with your baby," Camilla said.
Ella died while Camilla was in life-saving surgery following the birth. By the time she returned, Camilla said the change in little Ella's body was significant.
"Had (the Cuddle Cot) been there, the deterioration would have been a lot slower and we would have had that bit more time with her," she said.
Since the loss of Ella, the couple has had two more daughters, Olivia and Madeline.
If you would like donate towards the Cuddle Cot, visit www.mycause.com.au/page/116595