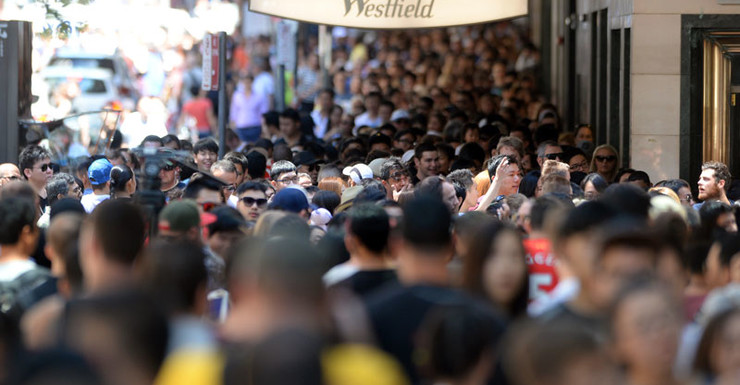 Consumers give up on houses and spend on retail
Housing finance applications are falling as consumers abandon the property market in favour of spending on cars and household items.
Fed up with an overheated housing market, consumers have started buying cheaper things like cars, TVs and fridges instead of overpriced homes, suggests new data.
Just days after a major report said homes in some Australian capitals were "severely unaffordable", research by credit agency Veda shows local consumers still have a strong appetite for borrowing, but in much smaller amounts.
The group's Quarterly Consumer Credit Demand Index shows that overall consumer credit applications are up 9.7 per cent compared to the same time last year, while borrowing for housing slipped into the doldrums.
With homes out of reach for many consumers at current prices, they are updating the family car, often with a new SUV.
More new cars were sold in 2015 than at any other time in history, with 1,155,408 new vehicle sales, and the Australian love affair with big cars further intensified, with demand for SUVs surging by 15.9 per cent. We bought more SUVs than small cars, which might begin to hurt when petrol prices rebound.
'Lipstick effect'
The apparent shift in consumer preferences could be a 2016 version of a phenomenon known as the 'lipstick effect' – when faced with an economic crisis, consumers don't go without luxury goods, they just buy cheaper ones. In this case, instead of purchasing their dream house, Aussie shoppers are getting a new Land Cruiser.
Indeed, luxury carmarkers enjoyed a blockbuster 2015.
According to drive.com.au, sales of Audis rose by 20 per cent, BMW sales were up 10 per cent and sales of Mercedes were up 14 per cent, while Ferrari and Porsche sales were up 47 per cent and 45 per cent respectively. Call it lipstick for the driveway.
Housing fears
Angus Luffman, Veda's consumer risk chief, said the fall in housing loan applications also points to a possible softening in house prices in the months ahead, particularly in the light of the Australian Prudential Regulation Authority's changes to investment lending rules.
"Historically, movements in mortgage applications have tended to lead movements in house prices by six to nine months and the trend has been down since mid-2015," he told The New Daily.
The standout performer in the survey was personal loan applications which jumped 11.9 per cent for the quarter whereas in the same quarter last year they fell 5.1 per cent.
Mr Luffman said the figures showed consumer spending was holding up despite the waning of the mining construction boom, with low interest rates, a strengthening job market and some increases in sentiment late last year driving the consumer exuberance.
Credit card applications rose by 7.5 per cent, around the same level as a year ago but much higher than the 1.7 per cent growth in the September quarter.
Mr Luffman said credit card applications were not necessarily an indicator of new spending and many related to consumers changing their credit card provider.
Cars attracting buyers
Cars are high on the consumer radar screen with auto finance applications up by 6 per cent over the year to November 2015.
"There is lots of activity in the car market and finance applications are at peak levels," Mr Luffman said.
Household goods are also attracting buyers with strong growth in loan applications with retailers boosting the overall personal loan figures.
Demand for credit varied widely across the country with Tasmania topping the personal loan charts with growth of 18.6 per cent.
Queensland followed with 13.5 per cent, then came NSW with 11.8 per cent, Victoria with 11.6 per cent, WA with 10.5 per cent, SA with 9.8 per cent, the Northern Territory with 9.7 per cent and the ACT was last with only 4.7 per cent.
State mortgage markets vary wildly
The variation across the state housing markets was even more dramatic with Victoria leading the pack with 7.7 per cent growth, NSW following with 5.4 per cent, SA with 4.7 per cent and the ACT with 2.9 per cent.
Housing in the mining states is suffering with Queensland recording gains in mortgage applications of only 1.6 per cent, WA in negative territory with a 10.1 per cent fall and the NT recording negative 14.6 per cent. Tasmania also recorded a fall of 11 per cent.
Non-traditional lending grows
Consumers are looking for new sources of finance with the proportion of new personal loan applications coming from alternative financiers like peer to peer lending groups growing strongly.
The alternative sources are moving from lenders of last resort for young people and those with little collateral towards the mainstream.
"Interestingly, the quality of applicants approaching non-traditional finance providers has been steadily improving over the past two years, as evidenced by the increase in applicants' average credit scores, or VedaScores," Mr Luffman said.
"The average age of borrowers using alternative lenders is creeping up as these lenders shift from being primarily a channel for younger consumers. The age of applicants is now on par with the market average.
"It's still early but, if this trend continues, it may be an indication that alternative lenders are becoming a more mainstream option for borrowers," Mr Luffman added.
Source: TND