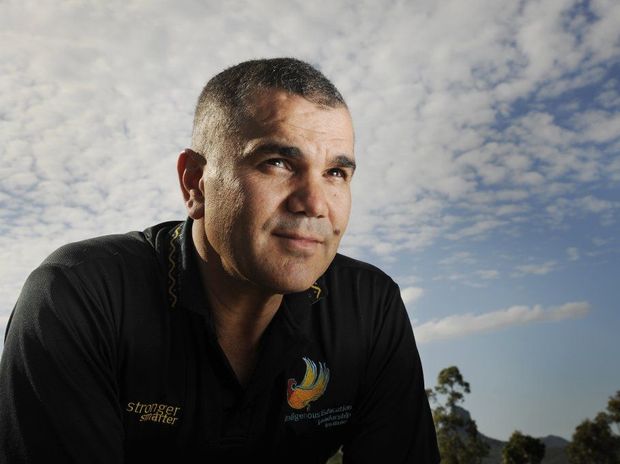 Chris Sarra: how one small gesture made a big impact
Chris Sarra still recalls the awkward, intimate childhood moment when a teacher placed his hankie between the young boy's ankle and the strap of a cricket pad that had been rubbing up a sizeable blister on his brown skin.
He can't remember precisely how old he was, but the occasion was inter-school cricket, the teacher was Mr Baulch and the impact was undeniable.
"It was quite strange because it was an intimacy I wasn't used to with a teacher, but it was also a powerful thing because it was a demonstration he cared for me," Sarra says from the back deck of his ageing brick home on 2.5 acres near Caboolture.
The result for a kid well known as a class clown?
"I never played up for him again," he says.
"That gesture cost him nothing, but it was so powerful for me. And here I am talking about it 40 years later."
Sarra, 48, understands very well the impact teachers can have on their charges, in some cases for the rest of their lives.
As the first Aboriginal principal of Cherbourg State School from 1998 - 2004, he was credited with leading the charge to take the school's attendance and literacy rates from rock bottom to eventually competing with state benchmarks.
And as chairman of the Stronger Smarter Institute - born out of his experiences at Cherbourg - today the affable education academic and social commentator encourages teachers to consider what their own impact will be on students, how they will be remembered.
Life in East Bundaberg
The public history records have already told us how Sarra has been remembered after his highly successful stint at Cherbourg - Queenslander of the Year in 2004, Queensland's Australian of the Year nominee in 2010, author of a children's book and his own memoir.
But it's important to go back to the earlier history too, to understand why that moment with Mr Baulch meant so much, and why his ideas were so well formed by the time he reached Cherbourg quite literally as a man on a mission.
As the youngest of 10 Italian-Aboriginal kids growing up in 1970s and '80s Bundaberg, Sarra spent most of his formative years preparing for that life-changing role.
His family lived in a small home in East Bundaberg, sleeping several kids to each room, in the same street as the Millaquin mill and famous rum distillery.
"I knew we weren't financially well off but we never felt impoverished. We just worked a lot," Sarra says. "My father worked on the council, then in the afternoons and on weekends would work share farming or picking crops - usually small crops or tobacco."
Naturally, it was expected the six boys in the family would help too, and Sarra remembers starting work from about the age of eight - only pottering at first, but toiling seriously by the age of 12.
But while work and sports such as rugby league, hockey and cricket featured prominently in their young lives, it was always made clear that school was the biggest priority.
Focus on education
Sarra's Aboriginal mother, Norma, and Italian father, Pantaleone (bastardised by the mispronouncing Aussies to "Peter"), hadn't made it to high school but they knew it was important and they wanted to make sure their kids did too.
"Keep your brains in school," Peter told his children, while Norma was often seen having robust conversations with the teachers whom she didn't believe were taking their education seriously enough.
All the kids followed the same educational path - Bundaberg East State School, followed by Kepnock State High School - and several of them pursued tertiary education of one form or another.
For Sarra's part, being the youngest meant school life had become a bit easier for him than it had been for his older siblings.
"By the time I got to school, my older brothers had probably had the fights that needed to be had and Mum had had the arguments with the teachers," he says. "There were some who weren't that pleasant, but most of them were pretty good."
At that time racism was an inevitable fact of life - such as being called "nigger" or "black coon" by classmates or opponents on the sporting field - which their mother helped them to confront.
"She'd say, 'yes, you are black, and don't let anybody put you down because of it. You be proud of it. Don't ever let anyone make you feel lesser because of it'."
Sarra has long realised how crucial Norma was in forming many of the ideals he now holds dear.
"She was a very strong character in the story of my life," he says. "There was no escaping the fact that racism existed and it was all around us. Sometimes it wasn't particularly pleasant.
"But the hard-working ethic of my father and the social justice ethic of my mother meant that we were never defined by racism. It never led to any sort of chip on the shoulder. Still, when I look back on that time as an educator, it's pretty clear that some teachers didn't really have high expectations of us."
Those low expectations - some subtle, some not so subtle - would become clearer to him as his own teaching experience grew, and as he asked more questions of his older siblings and family members.
But there was one man at Kepnock High who saw something more in that cheeky Aboriginal teenager - Mike Rimmer, a British-born English and history teacher.
"I didn't ever see myself as a smart person," Sarra admits. "I thought all I had to do was pass exams - you know, get 51%. I wasn't really into competing with other students. But Mr Rimmer went out of his way to talk to me and to talk to my mother about my education.
"In Year 10, he also went out of his way to make sure I'd turn up to the speech night because I was going to win a special award."
But it took some time for Sarra to see what Mr Rimmer did.
"I didn't know why he was trying to convince me I was smart. And I suppose one teacher wasn't enough to convince me. I was colluding with a circumstance in which there was a mediocre script written for me."
Galvanising potential
When Sarra graduated from high school in 1984 with an average Tertiary Entrance (TE) score of 750, he was uncertain what the future held.
Serendipity stepped in. The then Brisbane College of Advanced Education had recently started a program for Aboriginal secondary teachers and its administrators were willing to stretch the entry requirements if they saw people with potential.
Sarra's TE score was a mile off the teaching course admission level - closer to 910 - and he didn't believe he could handle it. But he was assured he could, and that he would be able to extend the three-year course across four years to give him a more manageable workload.
Two very important things happened in that first year, and one was the result of the other.
The first was when his appointed mentor, Dr Gary MacLennan, asked Sarra to speak to his own mother to find out what her school experiences had been like.
"That was sobering for me," he recalls.
He learnt Norma had dreams of one day being an archaeologist, but it didn't matter; as an Aboriginal child, considered incapable of learning much, she wasn't allowed past Year 3.
Older sister Tracie recalled a female teacher who would joke about bringing a bathtub into school so the stinky Aboriginal kids could have a wash.
Suddenly, he recast some of his own schooling memories in a new light - the primary teacher who expressed surprise at his topping the learning ability test scores, the high school teacher who joked to the class it must have been an easy maths exam because young Sarra had got 75%.
Looking back now, Sarra can also see why it wasn't hard to understand other kids like him actively disengaging from school.
"It's extraordinary to think about the kids who had to deal with that and who didn't have the strong parents I did to go into bat for them," he says. "Why would you value something that did that to you, that treated you like that?
"I got to reflect on my school experience differently and I didn't like it. I had to challenge myself. If it's about expectations, I had to create new ones for myself."
Those realisations galvanised the young teaching student.
Lifting expectations
After a year of studies in which he had been asked to complete 60% of the normal workload in the first semester and 90% in the second, he returned to his course administrators and said he wanted to finish at the same time as everyone else - even if it meant a higher workload for the remainder so he could catch up on what he'd missed.
From that point, Sarra made himself a promise. He would lift other people's expectations of himself and, hopefully by extension, of Aboriginal people generally. He wanted to work harder. He wanted to complete a Masters by age 40 and a PhD by 50 (both of which he has achieved well ahead of his self-imposed deadline).
He graduated from college, spent the next decade in a variety of teaching and education department roles in Canberra and throughout Queensland, and ended up at the University of Southern Queensland lecturing teaching students in the late 1990s, starting his doctoral studies at the same time.
Eighteen months into his USQ career came the call that changed his life - from someone in personnel at the education department saying they were looking for a state school principal at Cherbourg, the former mission where Aboriginal people from all around the state had been rounded up and settled for their "protection" since 1901.
"It was just one of those moments where I felt as though it was my calling … the universe speaking," he says with a smile. "I thought it was time for me to get on with my role with my own people, and rather than talk about making a difference, just get on and do it."
Turning the tide
Sarra had taken teaching students from USQ to Cherbourg previously and had always found it depressing.
"There was no learning integrity or pride in the place," he says. "And teachers would explain to us why it was the way it was, almost as though you just had to accept it."
Sarra wasn't prepared to accept it, and he said so right from the start. At his first school assembly he told the children: "The most important thing that you'll learn from me is that you can be Aboriginal and you can be successful."
Through working with parents and the community, rewarding good behaviour and calling out the reinforcement of negative stereotypes, changing the culture at the school until he had teachers and community leaders who believed in the same outcomes he did, slowly, slowly, the tide started to turn.
Sarra told the children they were strong and smart. He told them and told them until they started believing it themselves.
After six years, attendance had soared from 63% to 94%, while Year 7 literacy climbed from the bottom of the pack to 81% of the school's students achieving the state average.
"The thing I've reflected on in the past couple of years is that, had it not been for that very personal experience I had when I was 17 or 18 and realised that when you lift expectations of yourself, others will respond to that … I often wonder if I'd have just gone along to Cherbourg and finished in four years - which is what they would have expected me to do - and thought, 'I'll take my time and this is the best we can do'. But I knew that if I could change expectations, the parents and kids would respond."
Spreading the message
Sarra finished his stint at Cherbourg more than a decade ago now, but he has spent his time since rolling out his philosophies through the Stronger Smarter Institute, which he founded on the basis of what he learned there. In the past 10 years it has reached more than 500 schools and 38,000 students nationwide, with learning outcomes, attendance and community support rising significantly.
He's also bumped into a few of his past Cherbourg students over the years, and he goes back to those moments with Mr Baulch and Mr Rimmer; of how a child's memories of a compassionate and respectful teacher can last a lifetime.
He tells of one young woman he saw at a footy carnival who told "Sir" enthusiastically that what she'd learned from him had made her want to be a teacher too.
She had started her studies, and would finish once she'd had the baby she was then pregnant with.
Not all of them are fairytales, though.
Sarra is clearly emotional when he recalls the lives that didn't turn out so well - the ones who later spent some time in jail or, worse, the handful of funerals he has attended, some following suicides.
He couldn't stay in Cherbourg forever and he knows it, but it doesn't make it any easier to know he couldn't lift everyone out of the toxic cycle of disadvantage and disengagement.
Family time
These days he's trying to slow down and set his focus a little wider, stepping back from an executive role on the institute to instead be its chairman, sitting as a commissioner for the Australian Rugby League and trying to spend a bit more time with his kids.
Sarra and wife Grace, an associate professor of education at the Queensland University of Technology, have three children, Ezra, 17, Talia, 15, and Marcellus, 11 - and he is the first to admit he has struggled at times with the balance between being a good husband and father and trying to change the nation's expectations of Aboriginal people.
He's also eager to get more involved with the education policy agenda - although not from the front line of politics - and wants to continue encouraging people to think differently about issues, including those not confined to indigenous education.
"In some ways I feel like I've achieved what I set out to do," he says. "Changing expectations of Aboriginal kids in Australia was, at that time, a pretty lofty ambition. Ultimately what we did was expose the whole country to a different reality. I'm mindful that there's still lots of hard work to be done, but you can also see in that time there's been a shift. You've got two prime ministers who have talked explicitly about changing outcomes (for indigenous people)."
Sarra will also start writing a fortnightly column in Australian Regional Media mastheads, including this newspaper.
"One of the things I've come to love is writing," he says. "I'm keen to share ideas about a whole range of stuff, and also to be seen as more than just an Aboriginal person or an educator.
"And as I've slowed down, I've become a little dismayed by how we can be easily led by shock jocks who get traction by nurturing hate. I'm just keen to see what can happen if we can proffer messages anchored in compassion and concern.
"I don't want to be pious and I don't expect everyone to agree with me all the time. I just want to offer people a different way of thinking about issues as they emerge."
Source: Caboolture news