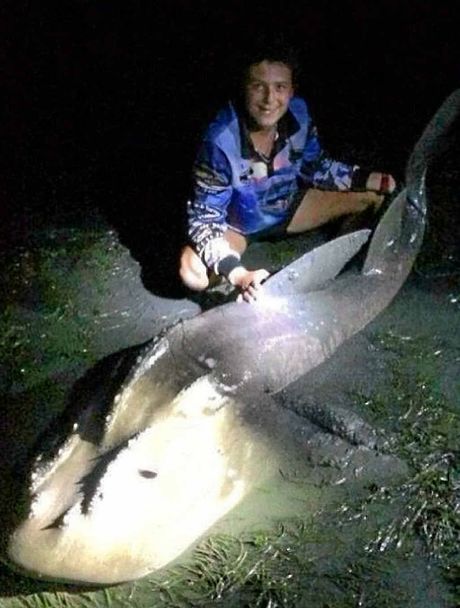 Bribie Angler reels in a 2.3m 'guitarhead' weighing 100kg
Waters surrounding Bribie Island are offering up a smorgasbord of fish species besides the odd flathead, bream and whiting.
A rare species of skate, known as a bowmouth guitarfish, was caught recently by Steven Murphy on Bribie Island.
The guitarfish was claimed to be 2.3m long and weighed roughly 100kg.
After having the catch posted on social media, Mr Murphy said he fought the fish for an hour before releasing it.
University of Queensland professor Mike Bennett said it was quite rare to come across a bowmouth guitarfish in Moreton Bay.
"We've been working in Moreton Bay for a long time and we've never actually caught one down here," he said.
Professor Bennett said the prehistoric looking fish was typically caught for its fins in south-east Asia, which were sold on the black market.
"I think the fins are marketed from this species because they've got quite a few fins and they're fairly big and apparently they fetch a fair amount of money on the market," he said.
"They're harmless and very interesting animals and, if people catch them, they should return them to the water unharmed."
The International Union for Conservation of Nature and Natural Resources classifies the guitarfish as being "vulnerable".
As a species relating to sharks and rays, the Queensland Department of Primary Industries and Fisheries limits the guitarfish to be kept at a maximum length of 1.5m.
Prof Bennett encouraged fishers to record a bowmouth guitarfish sighting to the Moreton Bay Research Station so researchers could understand more about their migration patterns.
"We've seen some odd fish down here, things like fossil sharks that have never been recorded this far south and they're meant to only get to as far south as Townsville," he said.
"And we're probably going to see more of this sort of thing with warm water fish extending their range southwards as the oceans warm up."
People can report sightings of the fish or any other rare species to mbrs@uq.edu.au.
Meanwhile, a number of bull sharks have also been caught off Bribie Island recently.
Stuart Parrant hauled a 1.38m bull shark from the Pumicestone Passage off the Bribie bridge in December.
"It took two of us to lift it and we couldn't so I took it to the shallows and three of us managed to get in," he said.
"This time of year you get lots of bait fish coming in... so there's plenty of them around."
Gateway Bait and Tackle manager Neville Timms said swimmers and anglers should be wary of their presence in the water.
"There has been a few bull sharks, probably because the water's a bit warmer and that's why they're coming down this way," he said.
Mr Timms said the abundance of large sharks and other fish was due to the healthy habitat around Bribie.
Pumicestone Passage was recently awarded a 'B-' in the Healthy Waterways report card.
Source: Bribie Weekly