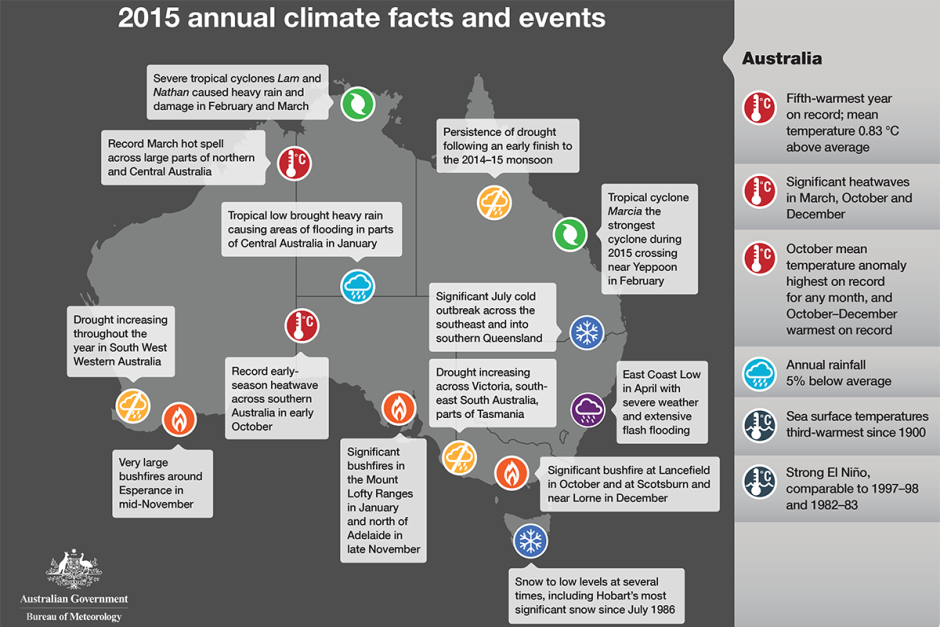 BoM climate report finds 2015 was Australia's fifth hottest year on record
Warmer than average temperatures across the country in 2015 confirm the dominant influence of El Nino on Australia's climate, the Bureau of Meteorology (BoM) has said in its annual report.
The report found that 2015 ranked as the fifth warmest on record in Australia, acting assistant director for climate information services Scott Power said.
"The national mean temperature was 0.83 degrees Celsius above average, with a number of notable heatwaves during the year and record-breaking temperatures from October to December," he said.
The bureau declared an El Nino in early May and it went on to develop into the most significant El Nino in nearly two decades, Dr Power said.
The report also noted rainfall was well below average across several areas of Australia — including a large area of inland Queensland, where, after three consecutive poor wet seasons, long-term drought continued.
Drought also increased throughout areas of Victoria, South Australia and Western Australia, the report found.
It also made note of other significant weather events, including a cold snap in July that saw snowfalls across much of eastern Australia.
Recent bushfires along Victoria's Surf Coast were among several significant blazes seen across the country in 2015.
The World Meteorological Organisation has said that, globally, 2015 was almost certain to have been the warmest year on record.
Source: ABC News