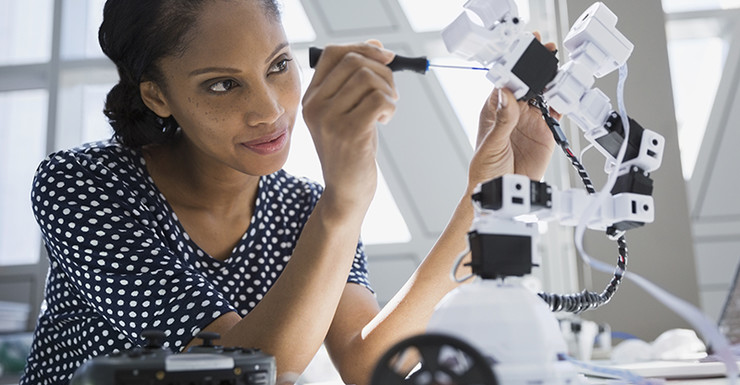 Australia unready for next industrial revolution
The coming industrial revolution will affect us all – here's all you need to know to survive.
A new report from the World Economic Forum says technological innovation will radically change or eliminate many of the world's existing industries.
Titled The Future of Jobs, the report examines the impact of the coming Fourth Industrial Revolution, where innovation in cyber-physical systems – such as autonomous automotive machines and distribution systems – and artificial intelligence will change the workforce as we know it.
One of the most astounding findings of the report is that 65 per cent of current primary school students will end up taking jobs that don't currently exist.
While other countries in the world have already taken steps to prepare their young people for the coming revolution, Australia has been a little slower to adapt.
For example, computer coding is currently a mandatory subject in all British schools; in Australia, it is still up to primary educators to decide whether or not to offer these subjects.
This and other examples are reflected in another report from technology consultancy firm InfoSys, titled Amplifying Human Potential – Education and Skills for the Fourth Industrial Revolution.
Australia lags behind
The company surveyed 9000 young people across the world and found that 50 per cent of Australians between 16 and 25 believed their education did not prepare them for working life.
More worrying is that less than a fifth of Australians surveyed indicated an interest in furthering their STEM knowledge (science, technology, engineering and maths) – skills and abilities that will prepare them for the jobs market of the future.
Prime Minister Malcolm Turnbull has previously identified this area as one of concern, stating: "Seventy-five percent of the fastest-growing occupations require STEM skills, but only half of Year 12 students are studying science; that's down from 94 per cent 20 years ago. That is really a retrograde development, and we have to turn that around."
Andrew Groth, the vice-president of Infosys Australia and New Zealand, echoes the Prime Minister's opinion.
"If you look at the figures, the number of students coming out of IT courses has dropped by about 50 per cent over the last decade," said Mr Groth.
"When we compare the Australian youth versus the rest of the world, they're really bottom of the stack."
Mr Groth refers to countries like India, where "the government has focused on macroeconomic growth … driven by industries like IT, which students see as a successful career path to pursue".
Where it will strike first
Dean of Faculty of Business and Economics, University of Melbourne, Professor Paul Kofman believes the first industry impacted by the Fourth Industrial Revolution will be the services sector.
"If you think about the opportunities that new technology offers, we see that most rapidly adopted in the services sector," said Professor Kofman.
He cites services like Uber, a ride-sharing service in competition with the taxi industry that Australians have flocked to in increasing numbers.
"If you think about the origin of this new tech [like Uber], we're clearly not a leader," said Professor Kofman.
"If you think about the speed of adopting, we are. It's not so much the ability to program an app on your iPhone, but realising the opportunities of this – I think Australia is very good at identifying this."
Professor Kofman is also pragmatic on the requirements to enable growth that will enable Australia to move with the technological changes on the horizon.
"It requires an environment that is accessible," said Professor Kofman.
"It will require minimal regulatory constraints, that allows the public to utilise that technology, and provides developers with funding."
From these reports and the opinions of leading commentators, it's clear young Australians are entering the workforce at a crucial time; where rapid change threatens to leave many behind, but also offers an enormous amount of opportunity. The outcome for every individual depends entirely on how much they are prepared.
How to get ahead
The best way to reduce your tech skills gap and ensure you stand every chance of success in a future job market is to begin planning now. Take a look at these ideas to put yourself on the right path for your future.
Look for training in:
• Computer coding
• Advanced robotics and automation
• Cyber security and forensics
• Big data and real-time analytics
• Mobile hardware and software
• Remote visual communications
And…

• Opt for LOTE study in one of the six official languages of the United Nations: Arabic, Chinese (Mandarin), English, French, Spanish and Russian.
• When preparing for tertiary education, attend career seminars from tech startup companies to increase your understanding of future employment prospects.
• Develop a Liquid Skillset – flexible skills that allow you to continually learn and adapt to changing job requirements.
• Investigate funding and grants opportunities for areas you are interested in.
Source: TND