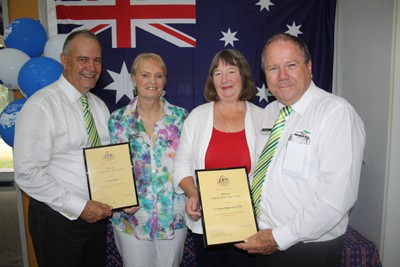 Australia Day Awards show gratitude to retiring council trio
He is used to presiding over Australia Day ceremonies but Bob Millar was a focus of one of them today.
The Samford-based Moreton Bay Region councillor was named as joint recipient of the Dickson Citizen of the Year honour at a ceremony at the Samford Community Centre.
Cr Millar, who was MC for a citizenship ceremony hosted by Samford Rotary Club earlier in the morning, said he was "absolutely chuffed" to receive the award.
The Division 11 councillor shared the award with fellow councillors Brian Battersby (Division 10) and David Dwyer (Division 7), who will also retire from council in March.
Collectively the three men have served Moreton Bay Regional Council and the former Pine Rivers Shire Council for 78 years and have "worked closely together for the last 16 years".
"As March comes I think we've got more than 100 years of local government experience leaving this council and three of them were recognised with Dickson Awards, and we're just absolutely stoked," Cr Millar said.
"I received the award of Samford Citizen of the Year in 1999 and I've presided over many of these (awards) events in one form or another.
"To receive an award today is just absolutely amazing."
Ben Morriss from Strathpine received the Dickson Excellence Award.
As a young teenager living in Logan, he grew up on the wrong side of the law and was incarcerated several times.
Now the 23-year-old carpentry apprentice, named the 2015 Construction Skills Queensland Australian Indigenous Apprentice of the Year, inspires young indigenous Australians in youth detention centres.
"Obviously I changed my life but not to get any awards like this – I did it for myself and to help others – but it (the award) makes me feel proud in myself," Mr Morriss said.
"I love going to juvenile detention centres but I'm not going just to talk and to tell them my story, my company East Coast Apprenticeships actually offers apprenticeships to get them out of jail and into work."
Other recipients of Dickson Community Awards, hosted by Federal Member for Dickson Peter Dutton, included Bunya's Brook Fraser, who helps maintain the local environment and bushland mountain bike tracks, and Tim Brinums, whose Christmas lights displays at Everton Hills helped raise $10,000 for cancer research and $13,000 for Bravehearts.
Australian Youth Orchestra musician Tobias Hill (Eatons Hill), Queen's Scout Award recipient Reabekkah Bennett (Bray Park), men's health advocate Ian Watson (Murrumba Downs) and dedicated Pine Rivers area volunteer Elaine Pirie (Murrumba Downs) also received Dickson Awards.
Warner sportsmen Dean Cane, a mountain bike rider who placed second at the World Duathlon Championships, and amateur kickboxing world champion Liam Badger, were also honoured.
The Samford, Dayboro, Pine Rivers and Bray Park-Strathpine branches of the RSL were recognised for arranging major ANZAC Centenary and remembrance projects, unveiled last year to mark 100 years of Australian troops landing at Gallipoli in 1915.
Source: The Westerner