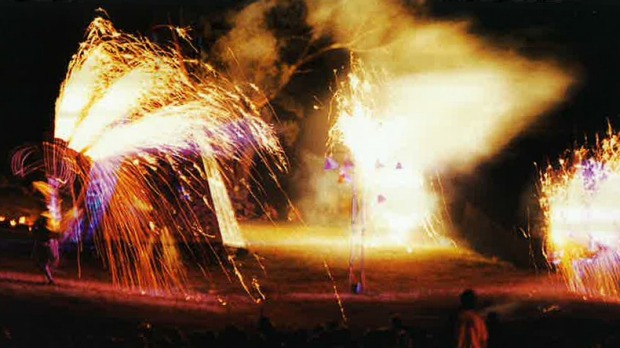 Woodford Folk Festival sees 'dramatic changes' in 30th year
After 30 years in action across two different towns the Woodford Folk Festival, starting this Sunday, has undergone its biggest ever change, its founder says.
Festival director and Founder Bill Hauritz warned some regulars wouldn't like "dramatic" differences in the layout and about half the stages but said it would all be worth it.
"We've dumped some things. We've got a whole stack of new stages," he said.
"We've built the festival from the ground up. About 50 per cent of all the venues have changed, changed positions.
"We've changed the street layout and then applied this visual art decor to the side and it was risky but when we switched the lights on last night it's dramatic.
"There'll be a percentage of people who don't like change. They'll say I can't find anything anymore but i think the majority of people will realise that it's a lot better."
Some big stars are due to hit the Woodfordia stages over the coming week for the bush festival that is about much more than just the music.
Singer-songwriters Lanie Lane and Josh Pyke headline the huge natural amphitheatre main stage to kick the festival off on Sunday night with indie darling Courtney Barnett, alternative pop band San Cisco and folk rocker Kim Churchill also commanding the event's biggest venue.
But unsurprisingly it was the festival's biggest name, American hip hop and roots master Michael Franti, that had Mr Hauritz the most excited, not that he was playing favourites.
"We just feel privileged that we've wanted him to come for years and one day he said yes," Mr Hauritz said when asked what he was most looking forward to.
"I can't say that he's my favourite but if I could answer your question in that way."
Dating way back to its genesis in Maleny in the Sunshine Coast hinterland three decades ago, what was happening offstage at "the folkie" was always just as important as the main acts, if not more so.
Woodford 2015/16 will see a bevy of street performers descend on the small country town, from one-man band Uptown Brown and his "goodtimes gyratorscope" to the monsters parade, harking back to the festival theme of two years ago.
Mr Hauritz also claimed the festival's best comedy lineup ever - featuring Adrienne Truscott, Dave Callan and Harley Breen - along with its strongest theatre and visual art showings.
A trip to Woodfordia, north west of Brisbane and out past Caboolture, is perennially a battle against the elements in some way.
Similar to much of Queensland in the middle of summer, the venue tends to veer wildly between baking, dusty heat and the sweet relief of rain, which turns dust to mud in minutes.
But Mr Hauritz said Mother Nature appeared to have turned on a perfect 30th birthday present with a lead-up not too hot or wet and positively bearable weather predicted for the week.
The mercury was only tipped to jump above 30 degrees for Sunday before a thunderstorm cooled things off and cloudy weather kept temperatures in the mid-to-high 30s into the new year.
The show kicks off on Sunday morning, with 120,000 people in aggregate tipped to go through the gates before the focal fire event closes things out on January 1.
Source: Brisbane Times