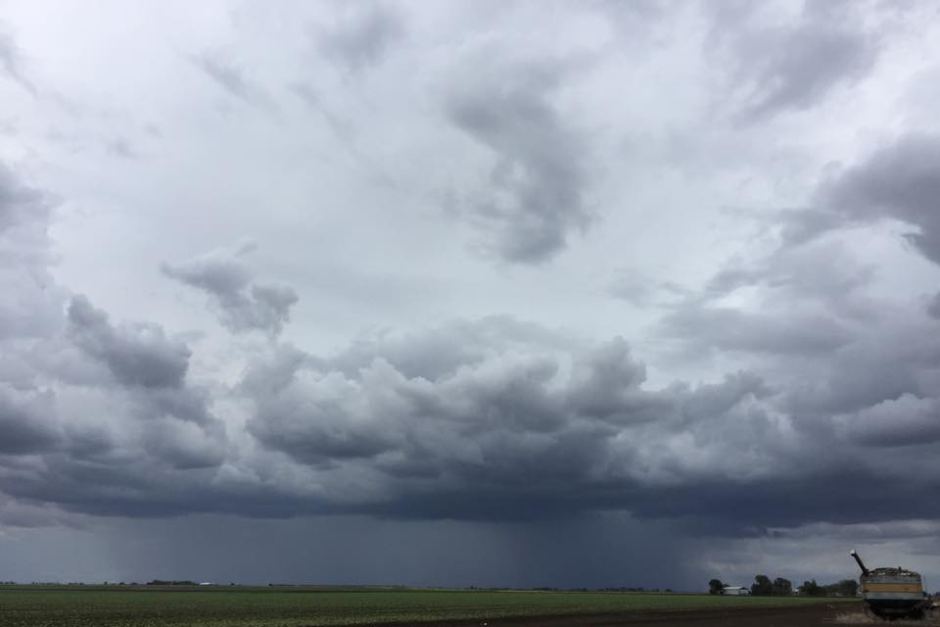 Thunderstorms tipped for south-east Queensland on Sunday according to Bureau
Brisbane and the Gold Coast are tipped to face a moderate to high chance of thunderstorms on Sunday afternoon, with a chance of severe thunderstorms, says the Bureau.
Bureau of Meteorology forecaster Rick Threlfall said there was also a high chance of severe thunderstorms in the southern interior of Queensland in areas like Roma, Charleville and St George.
"We have a southerly change coming through on Sunday around the south-east, with a moderate to high chance of seeing thunderstorms and there could be the odd severe thunderstorm as well," Rick Threlfall said.
Not enough to break the drought, but Orientos Station west of Thargomindah, received five millimetres on Christmas day
"From the Gold coast up to Brisbane, storms could go for the larger part of the afternoon."
Rick Threlfall said the tropical low north of Queensland still has a risk of becoming a tropical cyclone, but it was dependent on the low moving to the water in the Gulf of Carpentaria.
"The current maps have it moving east over the next 24 hours and it may go into to the gulf later tomorrow, but it's uncertain," Rick Threlfall said.
"There's still a cyclone watch out, but the chance of the low becoming a cyclone is becoming less and less likely."
There are heavy rainfalls expected over large parts of northern Queensland over the next few days, particularly over the gulf.
Far north Queensland felt the effects of the Tropical low Saturday morning, with Burketown, in Bob Katter's seat of Kennedy, receiving 198 millimetres of rain before 9am.
Palmerville in far north Queensland had the coldest recorded Christmas day on record at 24 degrees, 10 degrees below average.
The southern parts of the state had a relatively average Christmas in regard to temperatures, Brisbane was 1 degree below average at 28 degrees.
Source: Brisbane Times