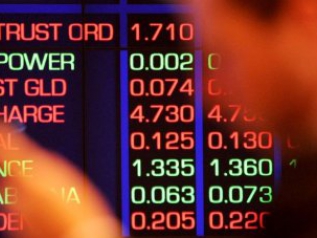 Share market falls as weak oil and iron ore prices bring energy and mining stocks down
The share market experienced a lacklustre day of trade as tumbling oil and iron ore prices hit energy and mining stocks.
Investors were also prompted to sell after US Federal Reserve chair Janet Yellen said she was "looking forward" to a rise in interest rates.
The Fed is expected to lift rates from near zero at its final meeting of the year in two weeks.
The All Ordinaries Index lost 28 points to close at 5,277 and the ASX 200 index fell by 0.6 of a per cent to finish on 5,228.
Energy stocks posted the biggest losses after oil fell below $US40.
The engineering services firm Worley Parsons was among the worst performers on the ASX 200, down 6.1 per cent to $5.40 after touching a more than 10-year low.
Mining shares fared only slightly better after the iron ore price hit a new record low of $40.60.
BHP Billiton shed 3 per cent to $18.19.
Elsewhere bank stocks mostly retreated; NAB fared the best on a gain of a tenth of 1 per cent to $30.04.
And the embattled law firm Slater and Gordon shed 6.3 per cent to $1.19.
Official figures released today showed falling prices for iron ore and coal have driven a much bigger than expected blow-out in Australia's trade deficit.
The trade deficit ballooned to a seasonally adjusted $3.3 billion in October.
Exports fell by 3 per cent in the month while imports were flat.
The Australian dollar was holding on to recent gains on steady interest rates and a pick up in economic growth.
But its rise against the greenback has been capped by those comments from the Fed; at about 5:30am (AEDT) it was buying 73.2 US cents, 69.1 euro cents, 90.3 Japanese yen and 49 British pence.
Spot gold was lower on the prospect of higher US interest rates; it was buying $US1,054 an ounce.
West Texas crude was down to $US39.88 a barrel and in Singapore, Tapis crude was at $US43.86 a barrel.
Source: ABC News