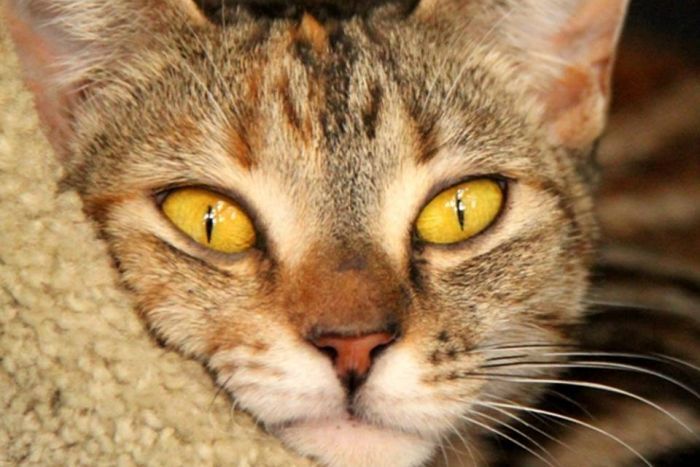 RSPCA sells cats for $20 in Queensland after taking in more than 44,000 animals
The RSPCA in Queensland is selling rescue cats for $20 in a bid to reduce the number of animals in its care.
The organisation is also selling dogs for $99 as it struggles to cope with its busiest year on record.
RSPCA spokeswoman Amber Preiksa said the organisation was being overwhelmed by the number of stray animals coming into its care.
"This has been our busiest year ever. We have had 44,254 animals come in to our shelters [in Queensland], the highest number ever," Ms Preiksa said.
"It is a 9 per cent increase from last year, and is a 35 per cent increase in the last 10 years."
Animals bought from the RSPCA come desexed, vaccinated, wormed and microchipped.
"Around this time of year we get a lot of strays, a lot of people surrendering their animals when they go on holidays and don't want to pay to keep them in a kennel," Ms Preiksa said.
"People need to understand that a dog or cat is a 15-year commitment in a lot of cases."
According to Ms Preiksa, the increased intake is partially due to the organisation opening more shelters in recent years, but irresponsible pet ownership also was a factor.
"These undesexed cats are having litters, and these kittens are having litters, and it just multiplies," Ms Preiksa said.
"As of last week we had 880 cats and 759 dogs in our care."
Online selling part of the problem
National Animal Rescue Groups Australia (NARGA) president Jan Bartlett said she had been receiving similar reports of high numbers of strays from animal rescue groups around Australia.
Ms Bartlett pointed to the popularity of selling animals on social media groups as contributing to the increase in strays.
If people can just buy a cat on Facebook they probably will as it is easier than coming out to one of our shelters and looking around.

Amber Preiksa, RSPCA spokeswoman
"If you look up 'pets for sale' on Facebook you can find about 10 [pages] in each city and town, selling or giving away pets."
While selling animals on social media sites is not against the law, Ms Bartlett said there was little accountability for these animals.
"Most of them aren't desexed, aren't vaccinated, aren't microchipped and who knows who is going to take them?" she said.
"These animals aren't vet-checked, aren't being accounted for properly and could end up having 10 babies, just adding to the problem."
NARGA raises awareness and provides support to animal rescue organisations around Australia.
Ms Bartlett said many animal rescue groups, including the RSPCA, were struggling with too many stray felines.
"We are seeing that especially with cats. I was talking to the RSPCA in Brisbane yesterday and they said they have over 700 cats in foster care," she said.
"That is not even counting the ones in the shelter."
Social media is 'so easy'
Brisbane resident Genevieve bought a cat from a Facebook group last year for $30.
"My cat died at about 18 years old and in the space of a few months these kittens popped up on my Facebook page," she said.
"They were just so cute and so easy to buy."
"It actually didn't [have any checks] when I bought it. Obviously, subsequently I got it desexed, vaccinated and vet-checked.
"When I went to the vet she was pretty disapproving of the fact I had bought it off a Facebook page."
Genevieve said the sellers made few enquiries into the home the kitten would be sent to.
"They did ask a few questions to see if it was going to a good home and a good environment, but it probably would have been pretty easy to lie," Genevieve said.
Ms Preiksa said if people could just buy a cat on Facebook, the probably would because it was easier than going to a shelter and looking around.
"But it means they have to be a responsible pet owner and get everything done," she said.
Cats and dogs bought from the RSPCA come microchipped, vaccinated, wormed and desexed, while that same care from veterinarian can cost hundreds of dollars in the first year of a cat's life.
Source: ABC News