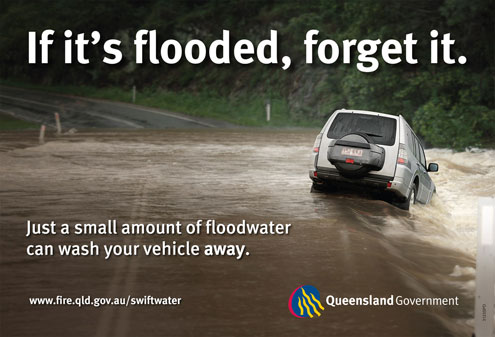 QFES praises Queenslanders for heeding flood safety message
Queensland Fire and Emergency Services (QFES) is urging residents and travellers in flood affected parts of Queensland to take it easy on the roads, with prolonged wet weather forecast over the coming days.
The Bureau of Meteorology has advised a tropical low will continue to bring heavy falls and flooding to north-west parts of the state, with rain likely to extend into the central west and southern interior later in the week.
Acting QFES Commissioner Mark Roche urged residents and travellers to plan ahead, check the status of roads before setting off and to stay out of floodwaters.
"The number of incidents we've had as a result of recent heavy rain has been minimal, so it is pleasing to see Queenslanders are heeding flood safety advice," Mr Roche said.
"The message is simple - 'If it's flooded, forget it'.
"Emergency crews are well prepared for severe weather and while QFES has swift water rescue teams on standby, I hope they won't need to be deployed.
"People should continue to heed the warning – stay out of flooded creeks and never drive through flooded roads.
"It's a recipe for tragedy. If it's raining heavily and you don't need to be on the road, just don't be."
Mr Roche advised Queenslanders to create a Plan B and plot alternate routes with the flooded roads map in the event of flooding.
"Having a Plan B could mean the difference between getting home safely or not getting home at all," he said.
Create your Plan B at http://floodwatersafety.initiatives.qld.gov.au/flooded-roads-map/.
For emergency assistance, call Triple Zero (000).