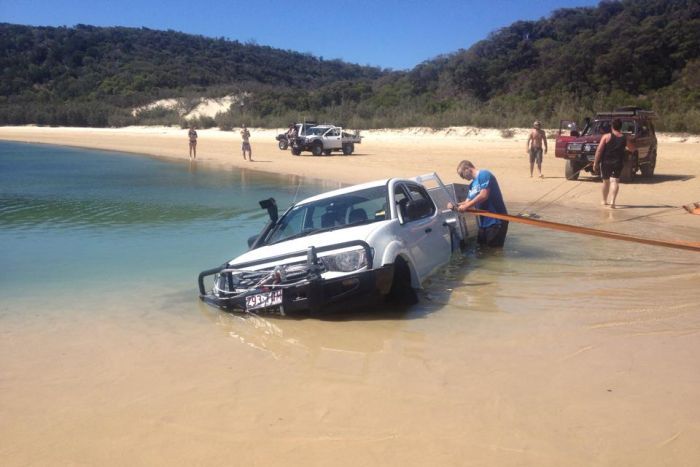 Put the brakes on unsafe beach driving this summer
Drivers are reminded to take care when driving on Queensland beaches this summer. 
Minister for National Parks Dr Steven Miles said driving on sand, where permitted, requires special care and drivers must be prepared for the ever-changing sand environment.
"Beaches are not highways - people fish, swim, play games and children run along them so drivers must be on alert at all times and drive safely," Dr Miles said.
"National parks are open and accessible for a wide range of outdoor pursuits. Beach driving is one of the best ways to experience what Queensland has to offer and is permitted in a number of areas.
"It is one of the most popular recreational activities in the south-east at places like the Cooloola Recreation Area, the Bribie Island Recreation Area, Fraser Island in Great Sandy National Park, Moreton Island National Park, and North Stradbroke Island.
"In central Queensland there are plenty of opportunities to drive on beaches in parks such as Byfield National Park, the Cape Palmerston National Park, and the Burrum Coast National Park."
Dr Miles said that being outdoors and at the beach supported a healthy, balanced lifestyle and urged all beach driving enthusiasts to familiarise themselves with sand driving techniques.
"Normal road rules apply and drivers must keep to the speed limits, wear seatbelts, not drink and drive, and make sure vehicles are registered with only licensed drivers operating them.
"As more and more people head to our pristine beaches, drivers need to be on high alert at all times and keep a watchful eye out for other beach users.
"Those who don't usually drive on sand should seek advice before heading out and take their time getting used to the feel of a vehicle when in the sand itself.
"Consider reducing your tyre pressure when driving on soft sand but keep within the manufacturer's specifications."
"It's important to always carry a tyre gauge, air pump, towrope, first-aid kit, adequate water, food, fuel and spares on all trips."
Dr Miles said drivers also needed to ensure their vehicles were evenly loaded with heavy items stored low as vehicles with too much stored on roof racks could overturn or become stuck.
"If the vehicle is top-heavy it can become unstable," he said.
"Conditions on beaches can change rapidly and the most important thing is to stay alert at all times.
"Drivers must ensure they have the experience to get themselves out of difficulty if they find themselves in these circumstances."
Detailed information on national parks and driving safely on sand is available at www.npsr.qld.gov.au.