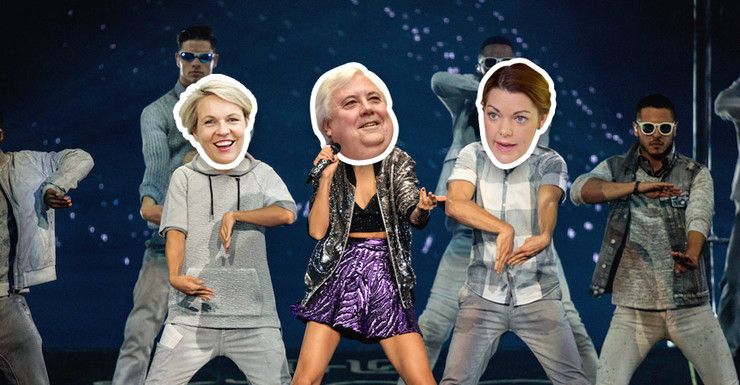 Politicians reveal their favourite songs of 2015
Whether it's getting down in Question Time or hitting the dance floor in their downtime, here's what our pollies listened to this year.
Earlier this month, Barack Obama shocked the world by revealing his favourite song of 2015.
While everyone else was hitting replay on mainstream hits like Hello by Adele and Hotline Bling by Drake, the US President was listening to the decidedly cooler, edgier Kendrick Lamar track How Much a Dollar Really Cost?.
The song tells the story of Lamar's encounter with a homeless man looking for change, who is really Jesus Christ reincarnated.
Michelle Obama opted for the slightly less profound Uptown Funk by Mark Ronson and Bruno Mars.
President Obama's revelation got us thinking – what do our pollies listen to when they're drafting legislation, preparing for Parliament or getting dressed up for a fundraiser?
We asked, they answered.
Tanya Plibersek
The Deputy Leader of the Opposition opted for The Weeknd's mega-hit Can't Feel My Face.
Why? "It's catchy, and my son's learning to play it on the sax," she told The New Daily.
Adam Bandt
The Greens member for Melbourne chose Can't Control My Love by Melbourne quintet Total Giovanni.
"Song and music video of the year, hands down. Experience this and understand why Melbourne is so hot right now," Mr Bandt explained.
Sussan Ley
The Minister for Health and Sport chose Courtney Barnett's song Dead Fox because "she has a lyric about Holbrook (in my electorate) and she's just been nominated for a Grammy", Ms Ley told The New Daily.
Warning: this video contains offensive language.
Wyatt Roy
"It is a hard choice, there was a lot of great music this year but it has to be Hozier's From Eden," the Assistant Minister for Innovation told The New Daily.
Clive Palmer
While the leader of the Palmer United Party didn't have a favourite song from this year, he said at the moment he was listening to And it Stoned Me by Van Morrison.
Sarah Hanson-Young
The Greens Senator for South Australia said it was hard to choose just one hit from this year.
"As a 1980s kid there were plenty of '80s and '90s revival tunes to choose from this year (King by Years & Years, took me straight back to the the Pet Shop Boys, which I love!)," the Senator said.
"But actually, the song that ear-wormed its way into my instant playlist was Mark Ronson's Uptown Funk. Compulsively danceable! Those funky beats would get me moving whether at home, in my own solo car-disco or even, bopping along in my head during Question Time!"
Sam Dastyari
The Senator for New South Wales cited Drake's Hotline Bling as his song of the year, providing a link to this article as the reason for his choice.
For those who can't be bothered clicking through (or aren't subscribers), it's a piece from The Australian columnist Sharri Markson on Senator Dastyari's phone bill.
"Diary can reveal Dastyari has racked up a personal phone bill of $15,175, which rises to $17,286 if you also include his office account, from January to June this year," Ms Markson wrote.
Hotline bling indeed.
=Ed Husic
Like Senator Hanson-Young, the member for Chifley loved Bruno Mars' ear worm Uptown Funk.
"Hot damn, my favourite song for 2015 was definitely Uptown Funk by Bruno Mars and Mark Ronson! Listening to it repeatedly came with the added bonus that I drove the office nuts as I'd leave for Question Time, whistle loudly then shout out the best line from the song: 'Julio, get the stretch!'" Senator Husic said.
Source: TND