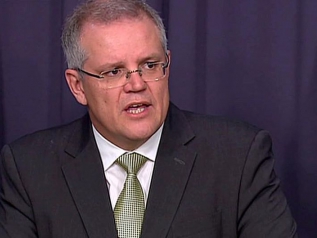 Morrison: talking tax with states not new
Treasurer Scott Morrison is trying to head off a scare campaign around the GST by playing down ideas to alter the consumption tax as old news.
Papers prepared for a Council of Australian Governments meeting examine options to raise the rate or broaden the base of GST.
But Mr Morrison notes the states had earlier this year asked the commonwealth to model a series of proposals, including raising the 10 per cent GST rate to 15 per cent, broadening its base and increasing the Medicare levy.
'The commonwealth is having a discussion with the states and territories about how we make our tax system better, that's what's happening,' he told reporters in Melbourne on Wednesday.
Proposals to unify state and territory payroll taxes and an overhaul of property levies are also likely to be on the table at a meeting of national treasurers on Thursday, ahead of formal COAG talks on Friday in Sydney.
Mr Morrison made clear his aim, saying the choice was between changing the tax system to grow the economy or raising taxes to pay for higher levels of expenditure.
'The commonwealth is not interested in the second discussion,' he added.
Labor says it's obvious the government intends to raise the GST.
Shadow Treasurer Scott Morrison slammed Mr Morrisons as 'pathetic excuse that the states made him do it'.
'That he's only commissioned this modelling at the request of the states, Scott Morrison's likes the driver after an accident'.
'There's only one person in Australia with the authority to instruct the Commonwealth Treasury to do this work on increasing the GST', he told a news conference.
Source Sky News