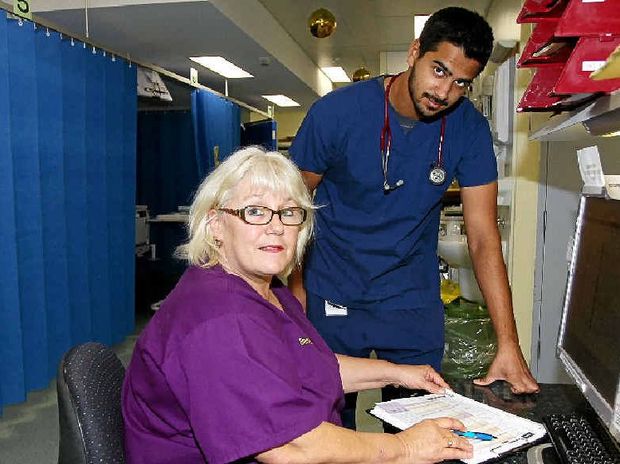 Moreton Bay Residents please avoid risks in holiday period
Caboolture Hospital's Emergency Department staff are urging the community to take care this Christmas as they prepare for an influx of patients during the summer break.
Caboolture Hospital's Emergency Department nurse unit manager Nerys Brackman said the Christmas-new year period was historically busy for the emergency department and the hospital.
"No one wants to spend Christmas or new year in a hospital, but each year, our staff see an increase in a range of presentations with physical and muscular injuries relating to sporting accidents, DIY projects and Christmas toys," Mrs Brackman said. "Over the festive season, people tend to let their hair down and take unnecessary risks to their personal safety and the safety of others.
"Last Christmas Day, our emergency department treated 108 adults and 38 children. New year was even busier with a total of 156 presentations - 23 in pediatrics and 133 adults.
"By far, Boxing Day was our busiest day over the festive season with 179 presentations to our emergency department, 37 of these patients were children."
Mrs Brackman said 2015 had seen close to 55,000 people come through the Emergency Department, an increase of about 7% from the previous year.
"This year has seen unprecedented demand on our services, especially during the winter months and we anticipate that this level of demand will continue throughout summer," she said.
Mrs Brackman said over the years, there had been many incidents that came through the doors that made staff scratch their heads in amazement and without going into too much detail - adults, alcohol and skateboards don't mix.
"While Christmas is no doubt a fun time for families, it can also be very isolating and lonely for others," she said.
"Sadly, we tend to see an increase in mental health presentations. I strongly encourage people to take proper care of themselves, their loved ones and others during the festive season and please stay safe this holiday season."
Emergency: People who are experiencing heart or breathing problems or who are in need of urgent medical attention should always attend their hospital emergency department or call triple zero (000).
Non-urgent: If it is not life-threatening, please contact a local GP or medical centre. Health advice: Call 13 Health (13 43 25 84) for medical advice 24 hours a day, seven days a week.
Stay safe this holiday season
Top tips for holiday health:
 Moderate alcohol consumption.
 Don't drink and drive.
  Ensure Christmas gifts such as bicycles, skateboards and scooters are accompanied by protective gear such as helmets and kneepads and are used under appropriate supervision.
 For adults, be careful when using new equipment including kitchen appliances and power tools, particularly under the influence of alcohol.
 Ensure that you have your medications filled before the public holidays.
 Keep hydrated with plenty of water, wear protective clothes and sunscreen, especially on very hot days.
 Keep an eye on loved ones and neighbours who live on their own to make sure they're okay.
 Do not leave food out in the heat and keep leftovers in the fridge and only for a few days.
 Keep a close eye on children, particularly around water.
 Check on your neighbours, particularly the elderly.
Source: Caboolture News