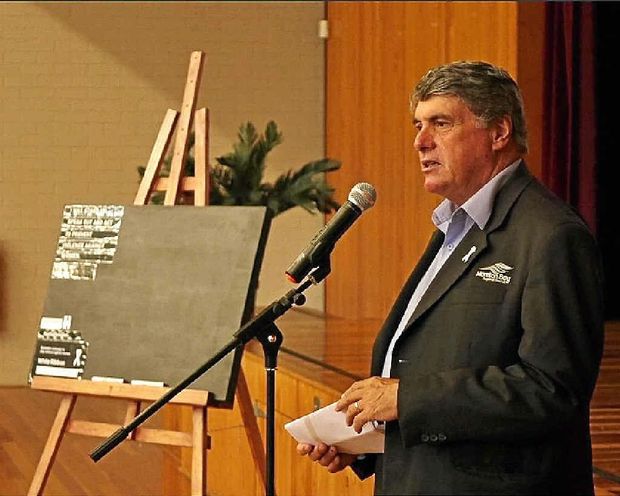 Moreton Bay Regional Politicians have zero tolerance for abuse
BACON, eggs and politicians marked the beginning of White Ribbon Day on November 25, with the community gathering together to make a stand against domestic violence.
White Ribbon is the only domestic violence campaign led by men - ensuring that women's safety is also a man's issue. Proceeds from the breakfast were divided and donated to White Ribbon Australia and the Caboolture Regional Domestic Violence Service (CRDVS).
Moreton Bay Regional Council (MBRC) mayor Allan Sutherland delivered the closing speech at the breakfast. Cr Sutherland said the reality of domestic violence had struck a cord with him after watching a TV special on the ABC. "As I was going to sleep I was thinking how totally isolated and alienated some of those women must feel," he said.
"Living out of cars, knocking on friend's doors in the middle of the night trying to get a bed for their kids - it's not the Australia I know."
Kimberly James from the CRDVS also spoke at the breakfast. She had an important message for women suffering violence in the Moreton Bay region.
"As a community we will support you. We have services and organisations that will help you through that process. It won't be easy - don't think that it will be easy, it will be the hardest decision that you'll ever have to make but its decision that sometimes you need to make."
White Ribbon ambassador and member for Morayfield Mark Ryan said domestic violence is an issue that needs to be addressed.
"By taking action on domestic violence we can make sure kids have the best chance in life and we can save lives as well."
For those who weren't able to make it to the breakfast, CRDVS and MBRC are reaching out through social media at #SaferFamilies. Call CRDVS on 5498 9533 for help with domestic violence.
Source: Caboolture News