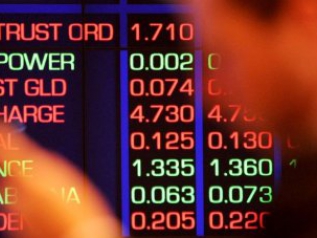 Local market limps to close as Government details Mid-Year Economic and Fiscal Outlook
It was another gloomy day on the market, with shares limping to the finish line after giving up early gains.
No traders appear to have the conviction to buy after six days of sell-offs and as they prepare for potential chaos when the US Federal Reserve makes its long-awaited rates decision on Friday.
The benchmark ASX 200 finished 0.4 per cent lower at 4,909, while the All Ordinaries also closed down 0.4 per cent at 4,964.
Markets are waiting for the usual December Santa Claus rally to kick in.
According to IG research, the market usually hits a pivot low on 15 December, before averaging a gain of 1.9 per cent into year end.
The Government's Mid-Year Economic and Fiscal Outlook (MYEFO) came in more or less within expectations, with the deficit blowing out by $26 billion over the next four years as commodity prices plunge.
Iron ore is punching the biggest hole in revenue and will continue to, with the Government cutting its price forecast from $US48 to $US39.
It is a tale BHP Billiton shareholders know all to well, with shares falling today to a new multi-year low of $16.25.
Rio also headed down, losing 0.9 per cent to $41.80.
The big banks mostly fell, with ANZ suffering the worst losses down 1.2 per cent.
The Reserve Bank put out the minutes from the board's latest meeting, showing it remains relatively upbeat, particularly with recent improvements in employment.
But the Australian office of global bond fund manager Pimco warned there was still a risk of a recession.
There was no mention in the RBA's minutes of the refusal of the Australian dollar to fall in response to plunging commodity prices.
The statement merely said that "the exchange rate was adjusting to the significant decline in key commodity prices," echoing last month's minutes.
Today it adjusted higher, buying 72.4 US cents at 5:00pm (AEDT).
At the same time the iron ore price was at $US37.50 a tonne, West Texas crude was flat at $US36.26 and the gold price was slightly higher at $US1,063.
Source: ABC News