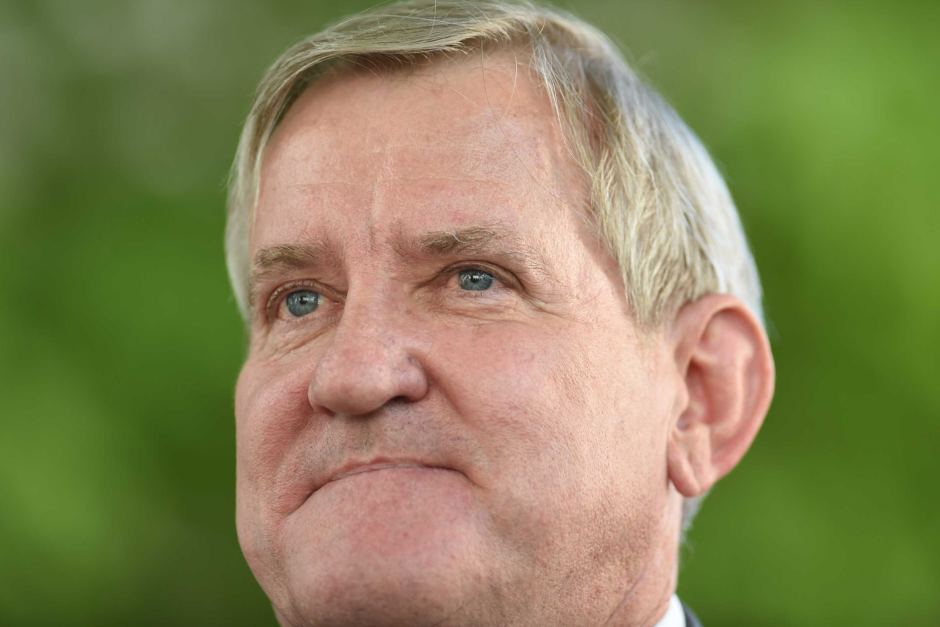 LNP Queensland rejects Macfarlane switch
Liberal National Party power brokers have decided the party won't support Ian Macfarlane's defection to the Nationals.
The Liberal National Party powerbrokers met for a marathon three-and-a-half hours to decide if the former federal minister could make the partyroom switch.
Mr Macfarlane emerged meeting with the LNP executive in Brisbane to explain he had met with LNP President Gary Spence and accepted today's decision.
The one-time resources minister says he felt he has more to offer regional Queensland and Australia but this 'not the view of the LNP'.
On Sunday Mr Macfarlane won strong support to sit in the Nationals party room in Canberra from the federal divisional council in his Toowoomba-based seat of Groom.
The President of the LNP Gary Spence says he is expecting Macfarlane to 'be our candidate' in the next election and he will 'sit with the Liberal party'.
Speaking to reporters shortly afterwards, Mr Spence said the executive had 'anguished' over their decision.
'We were concerned about maintaining the great stability that exists in the federal coalition,' he said, when asked why they'd knocked Mr Macfarlane back.
He said the votes of the rank and file members had been taken into account, but ultimately the state executive had to prioritise what was best for the LNP across all 30 of their federal seats.
While he wouldn't give specific numbers, Mr Spence said the final vote was very close.
He said he hoped Mr Macfarlane would stay in parliament and said he also would like to see more Queensland cabinet positions in a future reshuffle.
As the lengthy meeting wrapped up, Immigration Minister Peter Dutton and Deputy Prime Minister Warren Truss were seen leaving the building.
Liberal frontbencher Greg Hunt said the Queensland LNP's decision should be accepted.
'He (Macfarlane) is entitled to make a decision about his own future in his own time,' Mr Hunt told Sky News on Monday.
Mr Hunt said it would not impact on the coalition, as Prime Minister Malcolm Turnbull had established a 'very firm base' across the Liberals and Nationals.
Queensland LNP MP Ewen Jones compared it on Twitter to past party defections which did not go well.
'It will be up to the party room whether they treat this as a brain explosion and move on, or treat him with the same level of respect bestowed to others such as Peter Slipper, Cheryl Kernot and Mal Colston,' Mr Jones said.
A senior LNP member told AAP the decision had 'saved the LNP'.
Sky News understands the LNP State Executive rejected Macfarlane's defection to the Nationals, 14 votes to 12.
Sky News With AAP