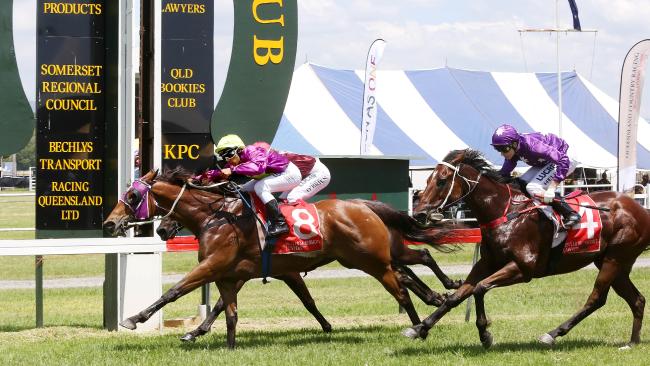 Kilcoy race club fuming at potential prizemoney cuts to Queensland country racing
Kilcoy Race Club president, Con Searle has delivered a scathing attack on the Palaszczuk Government and the board of Racing Queensland in light of their almost $19 million cut to prizemoney throughout the state.
Along with the much publicised prizemoney cuts, country racing remains in the sights of Racing Queensland with the threat of axing meetings from several clubs.
Mr Searle fired a stern warning to racing powerbrokers saying that the Kilcoy Race Club have supported Racing Queensland in their times of need.
"We shouldn't lose any race meetings whatsoever ... We've been a real asset to Racing Queensland because while Eagle Farm is being reconstructed, they are short of tracks to race on," he said.
"The approached me and my club to race here, we are a voluntary club and we went out of our way to help out ... For them to turn around and stab us in the back and take racedays away, I think it would be the lowest thing ever."
Under Racing Queensland's former administration, led by Kevin Dixon, Mr Searle said Kilcoy enjoyed one of their best racing years in recent history.
However he said that the industry's confidence had been evaporated after the Palaszczuk Government "sacked" Mr Dixon and his board earlier this year in place of an interim board.
 "Country racing is the backbone of the industry, that's where everyone gets their start," he said.
"Peter Moody, George Moore, Glen Boss, they've all ridden and trained here along with the surrounding areas, if they take that away, they have no where for young people to get their start.
 Mr Searle said he is leading a charge to have the former board reinstated to the job.
"This Labor Government have no idea what they are doing when it comes to racing.
"They should reinstate the old board led by Kevin Dixon, they are men of integrity, they are businessmen, they had a plan and I have no doubt it would have succeeded.
Racing returns to Kilcoy on Australia Day, January 26.
Source: Quest News