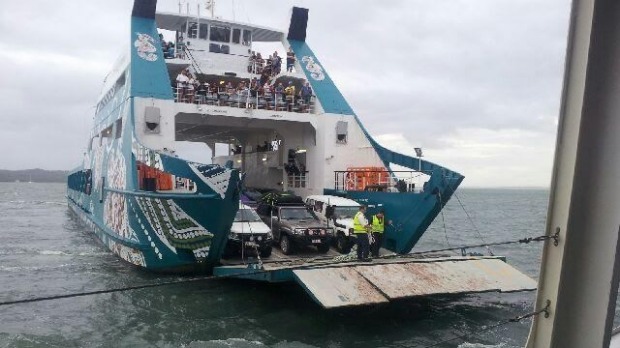 Hundreds stranded in Moreton Bay as Stradbroke Island barge runs aground
More than 200 people will spend the night stranded in Moreton Bay after Stradbroke Ferries' Big Red Cat car barge ran aground in gale-force winds whipping Dunwich on Monday afternoon.
Passengers on the barge said they felt a jolt as the boat hit a sand bar and came to a grinding halt just after 3.50pm.
They said strong winds forced the boat off its course, stranding it about 300 metre off shore. Wind gauges off nearby Peel Island recorded speeds of up to 53.5km/h at 3.50pm, not as fierce as the 77.8km/h that buffeted the island on December 10, or the 92.5km/h recorded on January 27, 2013 during Cyclone Oswald.
Stradbroke Ferries' Big red Cat ran aground just before low tide on Monday, stranding more than 200 holiday makers onboard overnight.
The boat ran aground just before the low tide of 53 centimetres, one of the lowest low tides of the year.
Those on board watched as Straddie Ferries staff tried to tug the large catamaran off the bank using a small water taxi, but the cables kept breaking.
Staff then tried to get passengers off by driving another barge up close and lowering the gangplank, but that was deemed too dangerous in the 2.5-metre swell and wind.
A small water taxi and a cable are used to try to tug the large car barge off the sand bar.
The boat master told the impatient crowd at 6pm they would be in for a long night aboard waiting for the next high tide at 10.39pm and offered free tea and coffee.
Passengers were also stranded on the island waiting for a trip to Cleveland.
Comment was sought from Stradbroke Ferries.
Passengers aboard Strad Ferries Big Red Cat had their holiday cut short after the barge ran aground just 300m off Dunwich on Monday, at low tide.
It was still unknown on Monday night when services would return to a normal schedule.
Weather forecasts indicated there would be strong winds throughout Tuesday and a return to gale-force winds on Wednesday.
Source: Brisbane Times