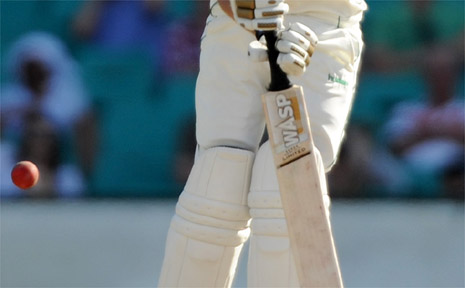 Gympie claims a tense triumph
Maroochydore Blue and Caboolture completed the second leg of the double header weekend to head the Sunshine Coast division one one-day ladder with wins on both Saturday and Sunday.
The Swans followed on from Saturday's victory over Tewantin-Noosa with a big win at Nambour, while Caboolture, jubilant after the great escape against Gympie the previous day, completely overwhelmed Maroochydore Red at Kev Hackney Oval.
With the younger Swans batting first, Matt Anderson and Matt Parkinson shut down any home aggression from the outset, bowling their 10 over allotments straight up to have the Reds 5/41 after 20 overs. The innings closed at 92, a chase that Andy Schablon made a formality with 68 off 39 balls to grasp double bonus points before lunch.
Tewantin-Noosa followed the same path at Read Park, dismissing a hapless Caloundra for 60 after Ash Poole claimed 4/14. The Thunder batsmen reached the target in 13 overs to claim their third one-day win with a double point bonus.
Maroochydore Blue's Showground match with the Cutters followed a more orthodox passage when the Cutters batted first for 158, showing surprisingly little support for 50s from Steve Ledger and Nick Wallace. Dylan Betts showed his Scorcher progress to mystify the home side, reaping 5/10 from his spell.
With the bat, Betts was trapped in front for two, a fate shared by Adam Thornton. But Lachie Kropp and Craig Davies took the score to 78, with Kropp unbeaten on 61 as the Swans reached the goal at 4/162 after 32 overs.
Gympie claimed the win that was snatched from its grasp by Caboolture's last-wicket heroics on Saturday, working hard yesterday to reach the Glasshouse total of 9/203, with three balls to spare.
Dan Cahill had batted to the end for the Rangers in his 75no but 56 from Steve Brady and 74 from Lewis Waugh gave the Gold the base for Kaden Dickfos and Troy Ashton to finish at 5/206.
LADDER: Maroochydore Blue 35, Caboolture, Gympie 29, Tewantin/Noosa 27, Glasshouse 21, Nambour 12, Maroochydore Red 4, Caloundra 4
Source: Sunshine Coast Daily