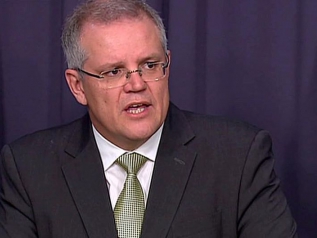 Federal Government: Terrorists face indefinite detention
State leaders are set to back new laws allowing convicted terrorists who complete their jail terms to remain imprisoned if they still pose a risk.
Prime Minister Malcolm Turnbull will put the idea to the premiers and chief ministers at the Council of Australian Governments meeting in Sydney on Friday.
Nine terrorists are in jail in NSW and four in Victoria.
While the states have schemes for post-sentence detention of high-risk sex and violent offenders, the laws do not cover terrorists.
Victorian Premier Daniel Andrews wants to see details, but says police need every resource to keep Australians safe.
"If it's appropriate and based on some of the laws we use in relation to sexual offenders, if there are checks and balances, you can count Victoria in to provide support," he said.
NSW Premier Mike Baird said governments needed to do "everything possible" to keep communities safe.
The chairman of federal parliament's intelligence and security committee, Dan Tehan, said the Charlie Hebdo attack in Paris showed the potential for released terrorists to re-offend.
"There is a gap in our ability to keep the community safe and it's one that we need to fill," he said.
When asked by Neil Mitchell on Radio 3AW about the potential for a young teen to be locked up indefinitely, Treasurer Scott Morrison cited the case of a 15-year-old boy shooting dead a police department employee in western Sydney.
"So that's my answer to that."
Labor frontbencher Anthony Albanese said the opposition would be supportive of such a proposal.
Meanwhile, Tony Abbott has defended his comments calling for the reform of the Islamic faith.
One of the responsibilities of being an ex-prime minister from time to time was to "speak out sensibly" on important subjects, he told Alan Jones on Radio 2GB.
"We do have a real problem, not just in our country but in many parts of the world where you have got these people killing in the name of God."
Muslim leaders and the Indonesian ambassador to Australia have described the comments as unhelpful.
Source: AAP