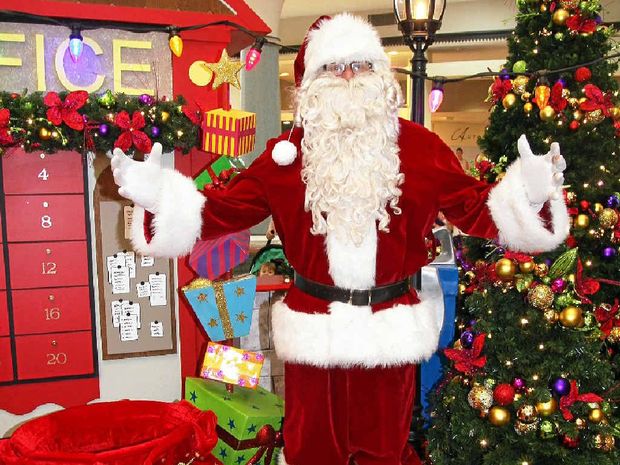 Dayboro Man Over three decades spent in the red suit
For 33 years, Alf Kennedy has been helping Santa do his job from the North Pole.
Mr Kennedy has been donning the big red suit as one of Santa's many helpers since 1982.
A retired policeman, Mr Kennedy said his days as Santa started back in Dayboro.
"I was a policeman in Dayboro and one of the locals was a bit concerned that some of the families were drinking on Christmas Eve and the kids would be sitting in the gutter," he said.
"We bought a Santa suit and dressed the police car up and drove the kids to the hotel, gave them lollies and persuaded the family to go home and do the right thing. And from that, every year on Christmas Eve I was taking Santa around and when I retired I became Santa and a policeman drove me around."
Since then Mr Kennedy has been Morayfield Shopping Centre's resident Santa for the past four years.
The 65-year-old said he looked forward to Christmas time and playing Santa for the children of the Caboolture and Morayfield region. "I see the looks on the children's faces and it is fantastic," he said.
"It's very enjoyable. I look forward to it."
Mr Kennedy said he was always impressed by how polite the children were.
"The manners of the children is surprising," he said. "Some people think Caboolture and Morayfield is a rough area but the children have impeccable manners.
"They all say 'I would like' and not 'I want', and I've also had children come up and say there's children who need presents more than me so give mine to them."
Mr Kennedy said he had some common requests though when the children did ask for a present.
"A lot want reindeers and a lot want motorbikes and I have to tell them not yet," he said.
"Some have wanted to become my elves and I say no, I've got too many, and some say can you get a Barbie doll for my brother, and I have to tell them no."
He said he had also developed a few techniques to make sure he got the perfect picture with the kids.
"We do a drop and run, which is where you get all the children that are happy to sit with Santa, and then we get the parent to drop the one that's going to be troublesome and run out of the shot so we can get it before they start bawling their eyes out," he said.
"We do shots where the baby is asleep and I'll lay on the chair and pretend I'm asleep too.
"You have to think out of the box. It doesn't have to be just Santa sitting there."
Santa photos are available at Morayfield Shopping Centre every day until December 24.
Source: Caboolture News