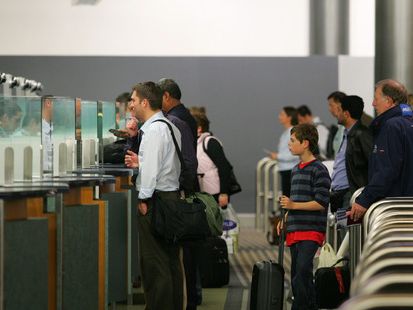 Danger for traveling Australians abroad
The suspected murder of two Australian travellers in Mexico serves as a warning.
 The fate of the two Australian surfers found dead last week in Mexico has shone a light on the risks of travelling to the more dangerous corners of the world.
Perth duo Adam Coleman and Dean Lucas are thought to have been murdered by highway robbers, who it is alleged shot the pair when they tried to escape and then set the van they were travelling in alight with their bodies inside.
Mexico is one of the most potentially dangerous travel destinations for Aussies, but there are plenty of others all over the globe. If the following cities are on your itinerary, be sure to tread carefully:
Rio De Janeiro, Brazil
Risks: "Quicknappings", muggings, armed robbery
Murders reported per month: over 400
Planning on cheering on the Aussies at Olympics next year? The start of the hundred metre sprint final isn't the only occasion you might hear the firing of a gun.
Rio De Janeiro authorities have essentially been at war with their own population for the past decade in an attempt to clean up the city in time for the 2014 soccer World Cup and the upcoming Olympic Games.
The gangs that once ruled the impoverished favelas of the city have been diminished and the city is certainly safer for tourists than it once was, but it remains a hotspot for muggings, armed robbery, home invasions, and sexual assault.
Aside from Carnivale, Rio is famous for "Quicknappings" – which involve being abducted, taken to an ATM, and then dropped in a remote area.
New Delhi, India
Risks: Rape, pickpocketing
Sexual assaults reported in 2014: 2,069
Home of the famous Red Fort, the Indian megacity holds many unflattering records that might explain a decline in tourists in recent years (including the worst air pollution in the world), but most dramatic is its status as the rape capital of the country ranked the worst for women travellers in the world.
Mired in poverty and economic inequality, New Delhi was home to 2,069 rape cases in 2014, up from 1,571 cases in 2013 – and doesn't include those that went unreported.
Gang-rapes are not unheard of and tourists are routinely targeted. According to OSAC the massive slums of the city feature a disproportionate gender ratio of 1,000 males to 884 females.
New Orleans, USA
Risks: Gun violence
2014 murder rate per 100,000 residents: 38.7
The city famously wrecked by Hurricane Katrina a decade ago has recovered to become a tourism hotspot for the US, with nearly ten million visitors last year checking out sights like the revitalised French Quarter.
Also on the rise, sadly, is violence, and this being America, it mostly involves guns. Since 2010 there have been more than 2,400 shootings in which a person was hit, often innocent bystanders caught up in the gunfights of others.
Johannesburg, South Africa
Risks: Carjackings, murders, scams, robberies
2014 Carjacking rate: More than 30 per day
Forget the lions on safari, it is the people in this city you have to worry about.
Once reputed as the murder capital of the world, Johannesburg in fact has a much lower homicide rate than fellow South African tourist hotspot Cape Town.
Such murders generally happen in the townships well away from tourist areas however, and it is in Johannesburg where tourists are more likely to be targeted in other types of crime – as a victim of carjacking or being followed out of the airport to be robbed on the way to the hotel.
Don't go to the "tourist police" for help either – they aren't real, just one of South Africa's many scams.
Phuket, Thailand
Risks: Bashings, druggings, extortion
Australian deaths per year: More than 50
Most places on this list are even more dangerous for the locals than the tourists, but not Phuket.
By far, more Australians die in Thailand than in any other foreign country, and Phuket is where the largest share of those deaths happen.
Journalist John Stapleton, who lived in Phuket for a time, blew the lid on the issue in his 2014 book Thailand: Deadly Destination.
In a piece for The New Daily he noted the country was a hotbed for murders, knifings, unexplained deaths, and alcohol and drug-related incidents.
Moscow, Russia
Risks: Homophobic/racist bashings, robberies
Penalty for "gay propaganda": 15 days of prison and deportation
If you're gay or an ethnic minority, be careful in the Russian capital. Bashings motivated by homophobia or a dislike of foreigners are a common occurrence and are both fanned by aggressive government rhetoric.
Tourists can be targeted around Red Square – there are even reports of gangs of children mugging people.
Corruption is rife, and the police are as much a part of the problem as the solution. Because of Russia's involvement in Syria and its issues in Chechnya, Moscow is a major terrorist target.
San Pedro Sula, Honduras
Risks: Gang violence, kidnapping, sexual assault
Homicides in 2014: 1,317
Sandy white beaches, Mayan ruins, lush jungles, and the highest murder rate in the world.
The most dangerous city in the most dangerous country in 2014 was San Pedro Sula, where 1,317 people were murdered out of a relatively small population of just over 700,000 people.
Even that statistic might be underselling it – with the country's limited police resources only ten per cent of deaths are investigated.
The violence is mostly connected with Central America's violent drug trade, but tourists can be targeted – armed robberies frequently target vehicles traveling from the airport to area hotels.
Mosul, Iraq
Risks: Suicide bombings, abductions, kidnappings
Australian penalty for unauthorised travel: 10 years imprisonment
There are two regions so dangerous the Australian Government has introduced laws that make it illegal to travel there – one is in Syria, and the other is Mosul in Iraq.
More than one hundred Australians have gone anyway – and yes, they know there is a war going on.
Those radicalised by Islamic State are travelling to the conflict zone, but so too are people wanting to fight against the terrorist group – some genuinely believe in the cause, but anti-Islamic State forces have also reported problems with "war tourists" joining up for a few weeks and mostly just getting in the way, putting not just themselves but others in harm's way.
Nairobi, Kenya
Risks: Mob violence, terrorism, carjackings
Terrorist attacks in 2014: 6
The gateway to Kenya's magnificent national parks, Nairobi sees many tourists coming through, but what many of them don't realise is that the Kenyan capital is by some measures Africa's most dangerous city.
To compare it with some of the other cities on our list, it features the carjackings, robberies and violent crime of cities in South Africa mixed with the same level of terrorist threats found in war-torn countries in the Middle East.
Nairobi has suffered some of the most devastating terror attacks in recent years, including the armed gunmen who killed 69 people, including one Australian, at Westgate Shopping Mall in 2013.
Source: TND