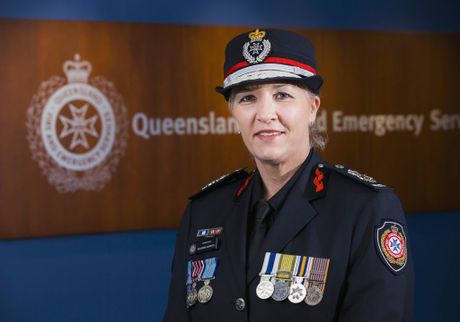 Building a world for women in emergency services
KatrinaCarroll was always destined for disaster.
Having experienced floods and cyclones first-hand in childhood and as an adult, it was in her blood.
"I remember in 1967 when I was living in Innot Hot Springs that we had a massive flood," she said.
"All of our farms and houses got flooded. I actually remember being on a trailer with a tractor, and all of us kids, and all of these families, were sitting on the back of it travelling to a little township so we could get out of the floodwaters.
"That was when I was a child but as you grow up in those areas, you almost, well you don't get used to it, but it's a part of life."
The Queensland Fire and Emergency Services commissioner has been in her role for a year this month, first in an acting capacity and then appointed officially in August.
She was heavily involved in Cyclone Larry, co-ordinated the policing response to Cyclone Yasi and was the State Disaster Recovery Co-ordinator for government agencies for Cyclone Marcia.
"To think now I've come into fire and emergency services ... it's probably a good thing to have that in my background," she said.
"It makes you appreciate the issues more because you've actually been involved in them.
"I remember in Cyclone Yasi, I had my two children living with me in Far Northern Region.
"I was so paranoid about making sure they were safe because I had to stay at work.
"So I had a half-way meet with my parents and they drove my children up to the Atherton Tablelands.
"I was giving instructions to my parents about how they had to baton down the hatches and what they had to do.
"When you are heavily involved in it personally ... that gives you a completely different perspective of how you need to treat people, what you need to take into consideration, what some of the really, truly important issues are."
It was treatment of people that became one of her first tasks in her new position.
She became acting commissioner as a scathing report labelled QFES a toxic place for women to work.
A review had followed allegations male firefighters were using Facebook to rate which colleagues would be best in bed.
It found QFES was fostering a culture of misogyny, sexual harassment, bullying and misconduct - revelations that prompted former commissioner Lee Johnson to resign.
When she walked into her office at Emergency Management Queensland HQ, the building where premiers and commissioners address the state during disasters, she was thinking "what am I going to find?".
"Not only was there an issue with the original event but the ongoing issues, the whole complaint system, there wasn't a good framework in place to deal with it so it really exacerbated the problem," she said.
"I saw elements of (a misogynistic culture) ... so there are aspects of the organisation that I agree we had to address.
"But we should not taint the entire organisation with that because I think that's the wrong thing to do.
"While there is 3% women in the fire and rescue side of the house, there's something like 28-30% women in the volunteering side of the house and there's a similar number in the emergency side of the house".
Already, some 19 of the 30 review recommendations - to improve the environment to recruit, train, assign, support and promote women firefighters - have been implemented.
They have a new harassment hotline, a new complaints system to address the shortfalls of the past one and training material will be pushed out across the entire organisation.
"Honestly, I've got to tell you I'm very pleased with how that's going," Ms Carroll said.
"Our strategic plan is all about inclusiveness and diversity. It's not just about women.
"The research clearly shows if you have a diverse workforce it's healthier, it's more productive, you have better ideas.
"I am pleased this year we had, I think, 20% women put through the academy so there will be positive change in QFES."
Ms Carroll said a new recruiting process in the New Year would ensure women, as equally as men, could apply for positions but she would ensure standards would be maintained.
She said she sent senior women interstate and abroad to see how others were implementing cultural change to ensure she got the plan right.
"Do you know, in some regards, we're way ahead of the rest of the country and the world are doing?" she said.
"Just recently I've appointed the first female superintendent in QFES. There was another female inspector appointed.
"And they are on merit, like they should be, like I was for this position.
"I'm comfortable that within three to five years, we'll be where we want to be."
Ms Carroll is often asked what makes a great leader so she's given the answer some thought.
"I think it's about being good to your people and trusting in your people that they'll do the right thing, giving them that empowerment to do the right thing," she said.
"You also need them (to understand) your vision for where you're taking your organisation, or that group of people ... you've got to get that balance right.
"It wasn't easy because I came from another organisation, and I could have started setting the vision and commanding people on how to do it.
"But I really had to learn what the business was, what the culture was, what they did, then really saying 'let's do this together'.
"So I think great leaders treat their people well, they do it together and they take them on the journey with them."
QFES is not the first time this gutsy woman, who turned 52 the day after this interview, has been asked to take on a leadership task within a male-dominated workplace.
She led the Queensland Police Service security operation at the G20 leaders' summit in Brisbane - which was one of few events around the world to go off without a hitch.
Ms Carroll, who has a photo with United States president Barack Obama in her office, received a letter recently from the Whitehouse thanking her team for an extraordinary G20.
She said the key to the event's success was having the right people "because you yourself haven't got all the answers".
"If I had people who thought exactly the same as I do, we're not going to move anywhere," she said.
"You need people who think differently to you, have done different work to you, so it's that diversity that brings out the new ideas. I need to be challenged."
Ms Carroll said it was difficult for large bureaucracies  to think outside the square because it's easier to do "as you've always done".
But her team "got good at it" and implemented 20 to 30 different initiatives that changed their whole business model.
"I particularly was mindful of innovation around G20 because we knew leading into that event that how we did things in the past was just not going to work because every democratic nation that had a G20, including Melbourne with the finance committee in 2006, (has had) horrific issues," she said.
"We did things that weren't even done in other parts of the world because we were comfortable in our own skin that it was going to work.
"They actually flew out on my birthday last year and whilst I loved having them in the country, I was actually very glad when they left because you know you've delivered a successful event, that everyone has gone home safe and sound.
"The legacy left to Australia was quite extraordinary, it's one of the safest G20's ever held."
Her G20 role earned her the Queensland Telstra Women's Business Award in the government and academia category.
Described as an accessible leader and a mentor to many women, she went on to win at the same category at the national awards too.
"Katarina is reinventing the safety and security space by implementing systems that promote collaboration between different government bodies," the judges said.
It is almost 33 years since Ms Carroll joined the police force. She credits parents of friends from Mount Surprise and Ravenshoe, in north Queensland, for inspiring her.
"I went up to a boarding school when I was young and I was very good at sports, especially tennis," she said.
"I had a coach who suggested I do that in life but I came from a Croatian background, very humble beginnings, and an education was critically important.
"I thought 'no, I've got to get some education' but at the same time I had two very close friends whose parents were police officers in small country towns.
"I used to spend a lot of time with them and I used to see them interact with the community, the community interact with them, and they were so highly thought of and they had such a wonderful impact on their community.
"It's funny, you know, I look back on those years, I've never worked in country policing even though that's what really drew me to the role.
"But I still think that every one of us that works in a public service role, fire and emergencies services, it's that connectivity to community."
Does her country upbringing help her communicate better with her team and the 41,000 volunteers under her watch? Of course.
"We used to be part of a rural fire brigade and, definitely, I think about the way I was raised on a farm - very much connected to land, connected to local communities," she said.
"One of the most enjoyable parts of my job is when ... I'm talking to people off the land and in small communities.
"I can easily have conversations with those people because that's my background.
"It gives you an independence too - I was raised on a farm where I was driving a tractor and cars and motorbikes at such a young age and worked in the paddocks.
"It gives that independence, that strength, that work ethic."
She agrees it also helps cut through any crap thrown her way.
"I'm straight down the line and I expect people to be straight down the line with me, authentic. If you're not, it's not hard to work out," she said.
Like many women with careers, the mother of two has difficult balancing family time with work.
As she accepted her Queensland Telstra award, an empathetic crowd laughed at her tale of husband Michael only just making it to the awards because their son Connor, 13, was playing a semi-final in the world indoor cricket championships and her daughter Martine, 11, was up north playing tennis.
She also told the audience she could not have had her public service career without dragging her family around the state.
"You cannot do these things without supportive people around you," she said during this interview.
"Every choice we've made, I've always sat down with my husband and my children.
"My children, by the time they reached year five, had been to two or three schools.
"My daughter says to me 'how many day-care centres have I been to?' and I say 'sweetie, I can't actually count them all'".
But her daughter still recognises them as they drive past one, whether it's in Cairns or Brisbane or somewhere else.
"Yes, you've been there as well," Ms Carroll usually replies.
Her role as QFES commissioner is her most demanding yet.
As well as her weekly duties, she often must represent the organisation at night and weekend functions.
"But I have an au pair who helps with the kids in the morning and the evening," she said.
"My family runs around the kids as much as I do, as do my parents, as does my mother in law. Everyone's in on the act."
She laughs when asked about "me" time.
"Someone once asked me if I read novels and I thought 'you've got to be joking'... I read reports," she said.
"One of the biggest things I enjoy is getting on a plane and ... just watching a movie when you're travelling from Brisbane to Melbourne or overseas or something."
While she might "chill out" occasionally one night with family or get away for a weekend, Ms Carroll believes there's a period in life that you dedicate to others. 
"There will come a time where there'll be a lot more 'me' time but you might have to delay that," she said.
"You can't do absolutely everything at once, I think you have to accept things are going to be put to the back and you might do them down the track."
Ms Carroll has already given some thought to what that might be - lots of travel.
But before she can dream too far ahead she has to deliver on a promise to her children left floating in the wind after her latest appointment.
"I promised my children after G20 that we were going to go overseas, because I hadn't had much leave, but then I ended up at QFES so we're still working on that one," she said.
"But I think with retirement you've got to plan it after being so busy because it's hard not to do anything after such a busy life, so I'm really mindful that once I move into retirement, I've got to think about that."
Trailblazing a new 'norm'
SHE is a married mother of two children who has achieved many firsts both in policing and as a female leader.
But Katarina Carroll is not sure about being labelled a public safety trailblazer, a description used at the Telstra Women's Business Awards.
"In years to come, it'd be great that it's not a trailblazer, just the norm - the norm that women work their way through organisations," she said, noting the number of women in Queensland Cabinet as a good sign for the future.
"You look at QFES, or education or health or policing, and women often come into the organisation at the same rate as men.
"But in the middle of that life cycle, a lot of women lose traction in their career. Some leave, some go on maternity leave and can't get back into the same slot, whichever way you look at it though, at the head of every organisation there is a lot more men than women, even in health and education.
"I think we've got to work on that middle period. I know a lot of governments are trying to work on this, getting women back into the workforce because it clearly shows you the productivity of the nation actually increases.
"A lot of it is around that balance in life, that flexibility in the workplace, so if you can get that right I think you will find those percentages increase.
"They sit at the end of the organisation where they have very little influence so the key is to have more women in those senior positions so you do have that healthy balance on how to run an organisation, very different perspectives.
"They say the top 200 ASX companies, where they do have that critical mass of women (in leadership) 20-30% - they actually are more profitable.
"So I think as a country, not just organisations, we should be thinking about this very differently.
"I know the conversation's been had and I think we're in a good place for the future." 
Source: Caboolture News