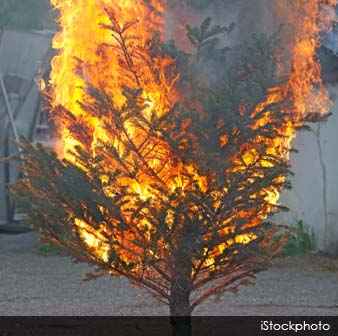 Beware faulty decorations and candles this Christmas
With Christmas less than a month away, Queensland Fire and emergency Services (QFES) have issued the following media release urging people to keep safety in the forefront of their minds when putting up lights and decorations for the festive season.
QFES Deputy Commissioner Mark Roche said the last thing families need during the holidays is a mishap due to faulty Christmas decorations.
"Many families often forget the hazards that damaged or worn decorations can create in the family home," Mr Roche said.
"Fairy and Christmas tree lights are only used a few weeks each year and they can easily be damaged in storage. These decorations are part and parcel of Christmas celebrations, but at the same time they have the potential to become life-threatening hazards and cause undue heartache."
Mr Roche stressed the importance of testing lights to ensure their safe use throughout the festive season.
"Electrical cords often get tangled when the lights are bundled away and can end up cut or frayed," he said.
"It's important to test your lights before putting them on your tree or house. Simply do not use a cord or plug that is damaged in any way or wires that are exposed.
"Faulty or damaged lights not only put yourself and your family at risk of electrocution, they also create a fire hazard that can see your tree go up in flames in seconds followed quickly by your home."
"Residents should also remember to only use Christmas lights which designed for external use outdoors. Internal lights exposed to the elements, such as morning dew and rain can quickly become fire hazards.
Mr Roche also reminded residents to use candle decorations safely and to always keep candles burning within sight.
"Extinguish all candles when leaving a room or before going to sleep and never burn a candle on or near anything that can catch fire," he said.
"Christmas is about enjoying the company of friends and family in a safe environment and by taking a few precautions you can ensure it will be a Merry Christmas and a Happy New Year."