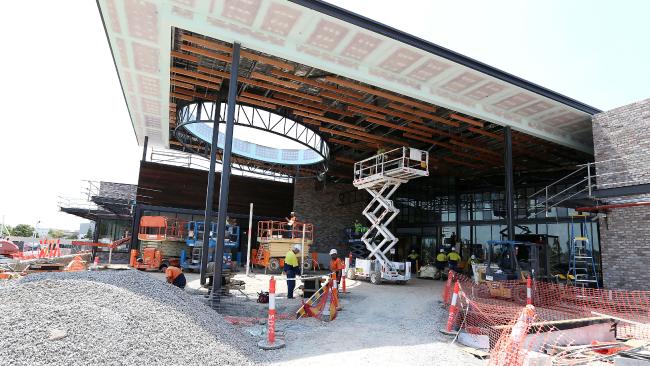 Westfield North Lakes gives glimpse of massive new $80m extension with cinema, piazza, shops and playground
Westfield North Lakes will unveil its $80 million extension next month with the expanded centre to feature gold class cinemas, a fine dining piazza and a new fresh food market.
Centre manager Jodie Gaske said Westfield had undertaken extensive research through Facebook and paid surveys to try and establish exactly what shoppers wanted.
Often people even drop by and tell our concierge what theyd like, she said.
The result is Events Cinemas will open the doors on a new eight-screen complex, which will include two Vmax and two gold class theatres ? where customers can have a drink while they watch the big screen.
The cinemas will be open in mid-2016.
The new piazza at Westfield North Lakes.
Downstairs from the cinemas an open-air piazza will house eight new eateries with German-style restaurant chain, Schnitz to open its second, fully licenced, Queensland store.
There will also be a San Churro, a Noodle Haus, a Kinn Thai, an OiSushi, a Grilld and The Groove Train.
The piazza will be open to diners by November 26.
Ms Gaske said Westfields would regularly hire bands or let locals in to busk in the space.
On the other side of the centre, adjacent to Coles, a new fresh food market will also open on November 26.
Coles will be extended as part of the renovation and the new 5000sq m supermarket will feature an improved deli and be one of the biggest stores north of the Brisbane river. The new childrens playground under construction at Westfield North Lakes.
New stores in the fresh food market will include The Fruit Deli Co, The Healthshop, Pacific Catch Seafood, Trangs Kitchen, Willow Quality Meats, Jigsaw Caf, Santoshi Spice Market, Soul Origin, Degani Caf, Rosita Flowers, Escape Travel, an Australian Laser Clinic and a barbers shop called Jimmy Rods.
Westfield havent forgotten the kids either and a new $600,000 childrens play area, which will feature an eight-metre tall climbing tower and a computerised pirate ship, will open on November 12.
One gripe from the community, as the renovations went on, was difficulty finding a park and Ms Gaske had a top-tip to save shoppers time circling around in their cars.
There are 700 spaces on the rooftop, Ms Gaske said.
The new fresh food market entrance under construction at Westfield North Lakes.
The spaces are a little tucked away and the ramp to get to the rooftop is next to Woolworths.
Westfield is presently negotiating a development application to build a large multistorey carpark which will open in November next year and $1.6 million is presently being spent putting up new shade sails in the main carpark.
Westfield said the expansion created 1500 jobs during construction and will lead to 200 new retail jobs once its done
Source: Quest News