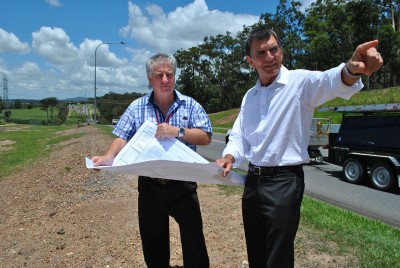 Warner Gets a Wider Old North Road to ease bottleneck
Ten years after it opened one of the district's busiest road corridors is set to double in width.
A noted peak-hour bottleneck for motorists, Old North Road at Warner will be expanded to four lanes.
Moreton Bay Regional Council has awarded a $5.2 million tender for upgrades of the road between South Pine and Kremzow Roads.
Councillor Mike Charlton (Division 9) said upgrading the road to four lanes was "a significant investment in our local road network" that would boost traffic capacity.
"It's an important road upgrade aimed at reducing peak travel times for motorists," he said.
The 1.5km upgrade of Old North Road includes two additional traffic lanes and provisions for designated cycle lanes in both directions.
Boulevard style landscaping will feature with a fauna overpass to be constructed to provide a safe crossing for wildlife.
Roadworks are expected to start in early-2016 and be completed by the end of next year.
"I'm eager to see work get underway on this important and time saving infrastructure project which has already delivered cost savings for ratepayers through the competitive tender process," Cr Mick Gillam (Division 8) said.
"Work to build the additional lanes is expected to be carried out alongside the existing road to minimise, where possible, any inconvenience to residents, businesses and motorists."
Provisions to upgrade the route to four lanes was part of the original Old North Road project, which opened in April 2006.
The $11.8 million link between South Pine and Samsonvale Roads was funded by the former Pine Rivers Shire Council, the Federal Government and Peet, developer of the Warner Lakes residential estate.
Previously motorists had to access the expanding Warner area by driving through Brendale or Strathpine.
Source: The Westerner