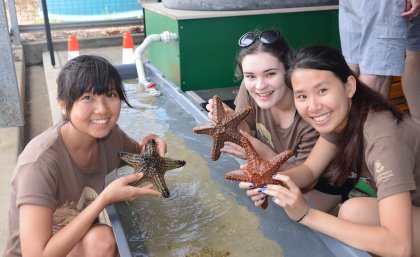 UQ Moreton Bay Research Station opens its doors to the public
Brisbane and Moreton Bay locals will have the chance to get up close and personal with a host of Australian animals when The University of Queensland's Moreton Bay Research Station opens its doors to the public on Saturday (21 November).
The free open day event will include hands on wildlife experiences with lizards, snakes, crocodiles, frogs, possums and owls, boat tours of the area, , and educational presentations about local marine animals such as dolphins and sea turtles.
Station Manager Kevin Townsend said the open day at one of Australia's largest marine research centres offered something for everyone.
"We will have fish displays and touch tanks with marine animals of Moreton Bay, as well as talks by scientific experts highlighting cutting-edge research," Mr Townsend said.
The Open Day also highlights the sharing of traditional knowledge by local elders, who will open the day with a Welcome to Country.
Qandamooka man, Matthew Burns, will give guided cultural walks along the Dunwich foreshore.
Visitors will be able to hold Aboriginal artefacts, learn about traditional hunting methods, explore bush tucker, identify bush medicines and see the remnants of an ancient rock fish trap.
Dunwich State School students will present the "Mad Science Show", led by the Station's Dr Kathy Townsend.
"The Mad Science Club is a partnership between the Station, CSIRO's 'Scientists in Schools' and the Dunwich State Primary School to mentor students in scientific method and allow them to share their enthusiasm for science with their peers and the community," Mr Townsend said.
He said the free boat cruises would offer visitors a 45-minute in-depth guided tour by some of UQ's marine experts and would cover a range of themes including Fish of Moreton Bay, Microscopic Moreton Bay, and Sea grass communities.
Each cruise can take up to 30 passengers and free tickets will be available on the day at the Station.
The event is supported by Sibelco Australia, SEQ Catchments and Education Queensland.
The Open Day is on Saturday 21 November from 10am to 3pm.
The Moreton Bay Research Station is at the corner of Flinders and Fraser Street, Dunwich, North Stradbroke Island and is a 25-minute ferry ride from Cleveland. For more information on the open day visit:
UQ Whats Happening Website
For travel information visit
UQ Planning Your Visit Site
Source: University of Queensland