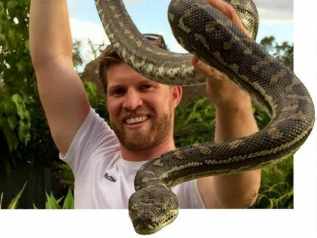 Snake Safety for The Moreton Bay Region
Now is the time to be vigilant in our own backyards and homes throughout the Moreton Bay Region.
The most precious gift for most families are the children. It is true although children know no fear, they are also unaware of the dangers that surround them even in safe and familiar suburbia
With warmer weather onset earlier and likely to be longer lasting due to the direc effects of the Godzilla El io event we are experiencing this year leading to hotter temperatures and more damaging storms.
Snakes do need to keep cool with these events and gardens rockeries and other shaded places snakes will frequent, in some local cases even home ceilings have been home to large and rather dangerous snakes so far this year.
So the key is to remain safe and wise with our surroundings
Between 2014 and 2015 Brisbane reported 653 snake bite incidents, as snake activity increases things the public should remember to remain safe out there include:
? Avoid walking through long grass, but if you have to, wear sturdy enclosed shoes and long pants.
? Carry a good quality compression bandage.
? Never try to catch or kill a snake.
? When camping, ensure the campsite is well lit at night.
? Take care when moving timber or iron sheeting and other outdoor building materials.
Some basic first aid tips to help if you are in an incident including a snake bit include:
? Avoid washing the wound as hospitals can test the bandage for poison and may be able to identify the type of snake, which will aid treatment.
? If only one bandage is available, start over the bite site the work up the limb. If more bandages are available, bandage over the bite site, and then the second bandage start at the extremities and work up the limb. Bandage the limb as firmly as you would a sprained ankle.
? Splint the limb to keep it straight.
? Do not allow the victim to move.
? Ensure the snake bite victim remains calm, as panicking will cause the heart rate to increase which will spread the poison around the body quicker.
As a helpful guide here are some of the stories we have released already this year
Wowsers! Trousers ! Whopping huge snake found on Sunshine Coast
Be on the lookout as Sea snake bites Banksia Beach man
New warnings as snakes on the move this season for Sunshine Coast and Moreton Bay Regions
Snakes slithering into backyards as weather warms, keeping catchers busy