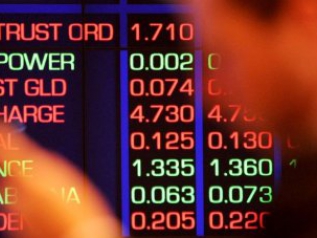 Share market reaches strong close as investor concern over Paris attacks wanes; Qantas a top performer
The share market has powered to a strong close with gains across the board, as concerns about the fallout from the Paris terrorist attacks waned.
Stocks jumped at the open after a positive lead from Wall Street, then pushed higher in late trade to close at the day's highs.
The All Ordinaries Index rose by 110 points to close at 5,174 and the ASX 200 gained 2.3 per cent to finish on 5,118.
Qantas was one of the top performers, after the ratings agency Standard and Poor's lifted the airline's credit rating back up to investment grade.
S&P has raised the airline's credit rating one notch from BB+ to BBB-, saying it now has a more prudent financial framework.
It downgraded Qantas to junk status nearly two years ago. Qantas shares closed 5.9 per cent higher at $3.76.
The Commonwealth Bank led the big banks higher on a gain of 3.1 per cent to $77.07 on the day it held its annual general meeting in Sydney.
The Commonwealth says it expects the compensation process for victims of rogue financial planners at the bank should be finished about a year from now.
Shares in A2 Milk rallied 4.8 per cent to 88 cents after the dairy company boosted its profit forecasts due to soaring sales of baby formula.
A2 Milk says baby formula sales made up nearly half of the company's revenue in the four months to the end of October.
It is expecting pre-tax earnings to jump to $22 million this financial year, nearly double its earlier forecast of $12 million.
Demand for Australian-made baby formula is strong in China, with reports Chinese residents and tourists are buying it in bulk and sending it overseas.
The minutes of the Reserve Bank's November board meeting suggest interest rates are likely to remain on hold, with the bank comfortable with the economic outlook.
The RBA says it expects growth to strengthen gradually over the next two years, and the very low level of interest rates is supporting growth in household spending and housing investment.
The meeting was held before last week's surprisingly strong employment report, showing the jobless rate had dropped to 5.9 per cent.
The dollar is slightly lower against the greenback. Around 5:00pm (AEDT) it was buying 70.9 US cents, 66.5 euro cents, 87.4 Japanese yen and 46.7 British pence.
Spot gold was lower at $US1,079 an ounce, West Texas crude had risen to $US41.63 a barrel and in Singapore, Tapis crude was buying $US43.84 a barrel.
Source: ABC News