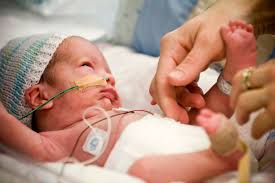 More premmie babies treated faster with new retrieval service
More of Queensland's tiniest patients have been given a helping hand to access lifesaving treatment thanks to a centrally-coordinated neonatal retrieval service, officially launched by the Palaszczuk Government today on World Prematurity Day.
Minister for Health and Ambulance Services Cameron Dick said babies from as far south as Grafton in northern NSW to Rockhampton in Central Queensland would get treatment faster than ever before under the highly-specialised Neonatal Retrieval Emergency Service Southern Queensland (NeoRESQ).
"For the first time there is a single response hub that will coordinate the medical retrieval of children who are born prematurely or who are seriously ill following birth," Mr Dick said.
"This is about streamlining services and ensuring there is a central point for all neonatal retrievals.
"Queenslanders can be confident that no matter where they live, their babies will receive world-class medical care by some of our country's top neonatologists, such as those at the Royal Brisbane and Women's Hospital.
"Whether by air or road, specialised neonatal nursing and medical staff are available to safely transport and treat Queensland babies born unwell or prematurely and who need treatment not available locally.
"Between 1500 and 1600 babies are admitted to the Grantley Stable Neonatal Unit at RBWH annually, with a third of these babies coming from regional hospitals.
"This service is making a big difference to how we treat babies in regional and rural Queensland and I'd like to thank our hardworking and dedicated staff across both hospitals for coming together and providing such a valuable service."
The Queensland Government will invest more than $15 million into NeoRESQ over the next five years. This includes $3.5 million already invested to initiate the service and about $3 million annually until 2019.
Member for Brisbane Central Grace Grace said that NeoRESQ was a result of extensive collaboration between the RBWH and the Mater Mothers' Hospital and had so far seen a substantial increase in retrievals and faster response times due to a dedicated in-house team.
"This 24-hour, seven-day-a-week service will greatly benefit the state's most vulnerable and sick babies, as evident by how many little lives have been saved in the past six months alone," she said.
RBWH's Department of Neonatology Acting Director and medical lead of NeoRESQ, Dr Peter Koorts, said more than 250 babies had been retrieved and admitted to the three south east Queensland neonatal units by NeoRESQ since the end of March this year.
"Every little life we take responsibility for, whether that be by helicopter or ambulance, is well looked after with staff available around the clock specialised in providing high quality care," he said.
"We look forward to working with more of our colleagues across regional and rural hospitals to increase support and education to help stabilise babies while our team is en-route."