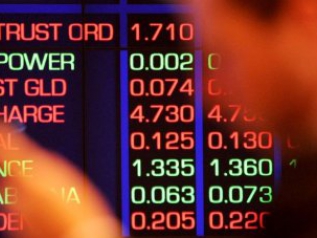 Mining sector among top performers on flat day for local share market
The local share market has ended the day flat after a mixed session of trading.
The All Ordinaries gained just three points to 5,294 while the benchmark ASX 200 lifted the same amount to 5,242.
One of the day's top performers was building materials company CSR.
It reported a half-year net profit of almost $80 million, and said there was no sign of a slowdown in the housing construction boom.
CSR shares were not slowing down either, gaining 4 per cent to $3.03.
Mining was by far the strongest sector of the day, with BHP lifting 45 cents to $23.47, Fortescue adding 3 cents to $2.13 and Newcrest rising by 24 cents to $12.30.
Meanwhile, official figures released today showed retail spending is continuing to grow, but only just.
Retail turnover increased by 0.4 per cent in September, to $24.5 billion.
The numbers were in line with expectations, so the retail sector was a mere 0.3 per cent higher.
Metcash lifted 5 cents to $1.26 while Wesfarmers gained 16 cents to $39.30.
But shares in Kathmandu and JB Hifi were lower.
Australia's trade deficit also narrowed to 2.3 billion in September.
The latest Bureau of Statistics figures show the country's trade deficit improved by $394 million for the month.
In commodities, spot gold had lifted to $US1,121 an ounce just before 5:00pm (AEDT).
West Texas crude oil was down slightly after overnight gains to $US47.83 a barrel.
The Australian dollar gained slightly and was buying 72 US cents.
Source: ABC News