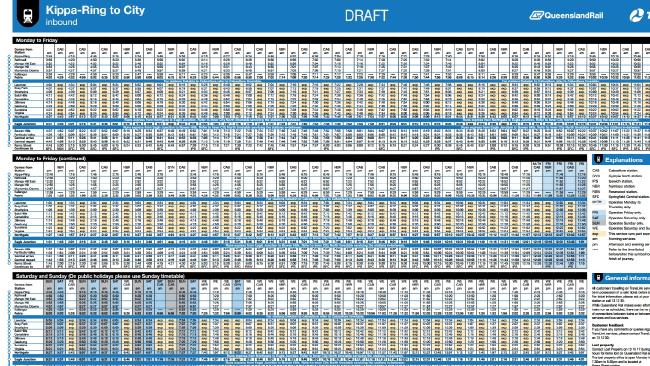 Commuters revolt over proposed changes to TransLink bus routes as part of the Moreton Bay Rail Link
Scarborough residents say TransLink's proposed changes to bus routes will force 60 buses a day onto local streets, jeopardising safety if adopted.
The changes are part of a review of public transport north of Brisbane ahead of the opening of the Moreton Bay Rail Link next year.
They are now open for public consultation.
The residents' concerns are echoed by Moreton Bay Regional Council Mayor Allan Sutherland and Councillor James Houghton (Div 5).
Cr Houghton has written to residents urging them to object to the proposed changes to bus route 699.
He said the changes would take buses off main and arterial roads and divert them through "narrow residential streets". "I refer particularly to Dolphin St, Oyster Point Esplanade and Central Ave," he said.
The council unanimously voted to lodge an objection to TransLink about the proposed changes on Tuesday.
Resident Zoe Hale said there were two proposed bus stops at Central Ave, one outside her house.
 Mrs Hale said she was worried the street was not wide enough to safely carry buses. She said "collector streets" such as Michel, Sunnyside and Scarborough roads were better suited.
Mrs Hale said bus traffic would create noise and pollution and pose a risk to children. Parking, potential vandalism and reduced privacy were also concerns.
Her fears were echoed by fellow Central Ave resident Carla George, who said the proposed changes were "ridiculous and unnecessary".
Another Central Ave resident, Robyn Collis said she was concerned about the safety of children who used the street to walk to school.
"Never in a million years would residents of this street expect to find themselves on a busy bus route. Be warned, if it can happen here, it can happen anywhere," Ms Collis said.
Cr Sutherland said the council was not given specific details of the new routes at a briefing, on October 23, despite claims to the contrary which were aired at a public meeting on November 14. He will seek an explanation from the Main Roads Director-General about the comments.
Residents can attend an information session (visit translink.com.au for details), lodge an objection on the same website, or phone 131 230.
Source: Quest News