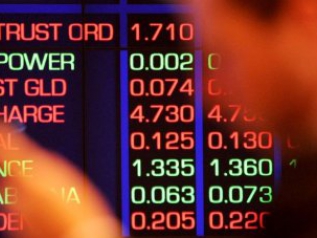 China movements weigh on local share market as Dick Smith, BHP slump
The local share market finished lower on a bad day for both big miner BHP and retailer Dick Smith.
The All Ordinaries Index lost 0.66 per cent or 33 points to 5,218 while the ASX 200 fell 36-points to 5,167.
The falls have been largely attributed to lower commodity prices in Asia and another steep sell off on the Shanghai stock market.
The price of iron ore fell in Singapore to below $US40 a tonne, which pulled resources stock down.
Fortescue Metals dropped nearly 5 per cent or $0.10 to $1.96, while Rio Tinto lost $0.32 to $45.91.
BHP Billiton slumped 3.6 per cent to $18.09 down $0.68, as it issued another update on the mine disaster in Brazil.
According to the world's biggest miner, 13 people died and six people remain missing after the disaster in south-eastern Brazil earlier this month.
Brazilian authorities have threatened a $7.2 billion legal suit over the massive dam burst and flood.
Brazil wants joint owners, BHP and Vale, and mine operator, Samarco, to set up a fund for environmental recovery and compensation.
In the banking sector, results were mixed.
The National Australia Bank fell 1 per cent or $0.30 to $29.39.
In consumer stocks, shares in Dick Smith more than halved in value to $0.28, down $0.38.
The fall came after the company said it could not guarantee its last profit prediction for the year and warned of more write-downs in the business.
Metcash, Slater and Gordon record positive profits
Grocery wholesaler Metcash reported a 20 per cent increase in its half-year profit.
The company reported that it made $122 million after tax in the six months to the end of October.
Its shares rose 12 per cent to $1.48, up $0.16.
Legal firm Slater and Gordon gained 0.33 per cent to $0.93, up $0.24, after losing 80 per cent of its value last week because of concerns about accounting problems and road accident compensation changes in the UK.
Company profits rose by 1.3 per cent over the three months to the end of September — a pick-up from the contraction in the previous quarter.
Over the year to September, gross earnings were flat on a seasonally adjusted basis, according to the Bureau of Statistics.
Inventories were steady over the September quarter but fell over the year.
The figures will contribute to the latest economic growth numbers out this week.
Just before 5:00pm (AEST), spot gold was trading weaker at $1,056.56 an ounce, while West Texas Crude Oil was sitting at $US41.71 a barrel.
The Australian dollar was trading at about 71.89 US cents, 67.94 Euro cents, 88.26 Japanese yen, 47.85 British pence, and more than $1.09 New Zealand.
Source: ABC News