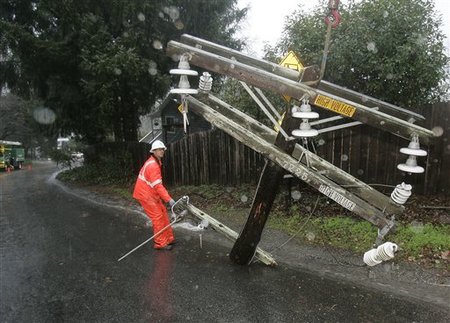 Storm brings down powerlines on Sunshine Coast hinterland as clean-up underway
Energex is working to repair powerlines damaged in last night's storm on the Sunshine Coast.
The hardest hit areas were Peachester, Bald Knob, Balmoral Ridge and Crohamhurst, on the hinterland, where 62 homes remain blacked out.
Council road and Energex crews spent the night clearing debris and removing fallen powerlines but more work is required this morning.
The Sunshine Coast council said some parts of Commissioner Flat Road near Peachester were down to one lane.
Trees still need to be removed and Bridge No. 2 may need to be closed for safety reasons.
Graham Metcalfe from Energex said it was hoped power would be restored to affected residents by lunchtime.
"We've been clearing roads where trees have been brought down so we can access the areas where the powerlines have been damaged," he said.
"It's taking a while - there's quite a lot of damage to the network in that area and all going well, we should be able to get most of that back on around lunchtime today.
"But bearing in mind there is quite a bit of damage that needs to be assessed and for safety reasons we'll be taking it a little bit slowly."
101.5 FM Facebook which contains all updates on Power Traffic and other issues