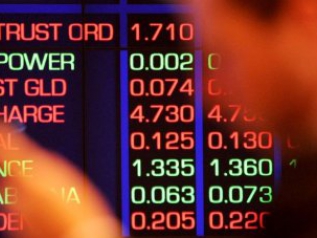 Share market limps to flat close despite promising start after interest rate cut in China
The share market has limped to a flat close despite a strong start, as investors shrugged off an interest rate cut in China that sparked a rally on global share markets.
The All Ordinaries Index lost two points to close at 5,386 while the ASX 200 fell by four points to finish on 5,348.
Financial stocks were among the few to advance, as investors assess the big banks' decision to raise their variable home loan interest rates independently of the Reserve Bank.
Westpac fared the best of the big four, rising by 0.9 per cent to $31.84.
Shares in the steel maker BlueScope soared by 10.6 per cent to $4.50 after it announced it will continue to operate its Port Kembla facility in New South Wales and upgraded its profit forecast.
The decision, which will save about 5,000 jobs, comes after concessions from the company's workforce, the unions and the State Government.
Shares in Ten Network have been placed on a trading halt before an entitlement offer that will give pay television operator Foxtel a 15 per cent stake in the free-to-air TV broadcaster.
Ten has join its rivals, Nine and Seven, in slashing the value of its television licence amid a volatile advertising market and the arrival of new digital streaming services.
The free-to-air TV network nearly doubled its losses to more than $312 million for the 12 months to the end of August, after writing down its licence by more than $251 million.
Ten said revenue and ratings improved in the year.
The dollar has risen through the day, about 5:00pm AEST it was buying 72.5 US cents, 65.7 euro cents, 87.8 Japanese yen and 47.3 British pence.
Spot gold was fetching $US1,166 an ounce while West Texas crude oil was buying $US43.78 a barrel and in Singapore, Tapis crude was trading at $US48.84 a barrel.
Source: ABC News