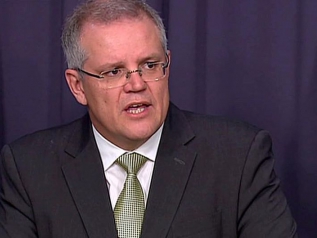 Scott Morrison aims to close women's super gap
Treasurer Scott Morrison is considering new measures to prevent women and carers falling 'behind the curve' in building up their superannuation savings.
One option would lift the tax cap on contributions to allow working mums to top up their super when they return to work without copping a tax penalty.
'We are having a good look at it,' Mr Morrison told Sydney radio 2GB on Monday.
Opposition Leader Bill Shorten said the Liberal government appears to have just discovered women have a savings gap, an issue Labor has supported closing for some time.
'Labor had a policy in place which said that you shouldn't pay any tax on your superannuation contributions if you earn less than $37,000 a year,' Mr Shorten told Sky News.
'The Liberals took all of that away.'
Deputy Australian Greens Leader Larissa Waters accused the government of being out of touch, saying new mums and carers don't have the spare cash to top up their super.
'Simply encouraging women to top up their super will only help the small number who can afford that,' Senator Waters said in a statement.
Mr Shorten said if the government was serious about helping people save for their retirement, they wouldn't be giving tax concessions to the highest income earners in the country.
But Mr Morrison said the Labor party just saw super as something to tax.
'We see it as someone's pathway to independence in retirement and not being on the pension if we can avoid that,' he said.
In a new report, Deloitte says a fairer way would be to tax contributions at marginal tax rates minus a 15 cents concession, rather than just taxing them at 15 cents in the dollar.
This would raise $6 billion in government revenue in 2016/17 alone, money Deloitte Access Economics economist Chris Richardson says could be used to cut the corporate tax rate.
A separate international study co-prepared by the Actuaries Institute supports measures to increase pension contributions and encourages the introduction of default products to provide income security for many retirees who now face the prospect of outliving their savings.
The institute's president Estelle Pearson said the paper underlines the significance of the Turnbull government's response to the financial system inquiry and the commitment to far-reaching reforms of the super and pension system.
'While these measures are not yet enacted or indeed spelt out in significant detail, there is now a framework in place to correct what needs to be fixed and to improve what needs to work better,' Ms Pearson said.
Source: AAP