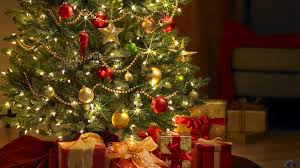 Queenslanders warned not to take risks with Christmas lights
With supermarkets already stocking Christmas goods on their shelves, Queenslanders have been urged to play it safe with the Christmas lights and electrical decorations they buy.
Treasurer and Minister for Industrial Relations Curtis Pitt said festive shoppers should only buy Christmas lights that meet Australian Standards, even if they are a bit more expensive.
"I know it's strange to be talking about Christmas lights in October but that seems to be becoming the norm," said Mr Pitt.
"Don't sacrifice quality for quantity in an effort to cover their house in Christmas lights, it's a risk that's never worth taking.
"At any time of year buying cheaper fairy lights online, second hand or from sellers that don't offer a guarantee could seem like a bargain, but is not worth the risk since you just can't be sure what you're getting.
"And make sure you buy the right lights for the right purpose, like very low current solar and LED lights in outdoor areas with appropriate weather proofing."
Mr Pitt said Queensland laws made it illegal to sell decorative lights that did not meet Australian standards nor have a certificate of conformity.
"It might be cheaper, but it is difficult to buy electrical items with confidence over the internet because other countries do not always have the same electrical systems or standards we have in Australia," Mr Pitt said.
"Lights need to have the proper compliance marking or labelling - simply look for the regulatory compliance mark or for older models an approval mark such as Q1234, V1234, NSW1234 etc. These marks indicate compliance with Australian Standards.
"These identifiers are usually found on a plastic tag near the plug or on the transformer if it is an extra-low-voltage type, or on the packaging."
Mr Pitt said Electrical Safety Office inspectors would be conducting random audits of lighting retailers again this year to ensure lights being sold have been approved and are safe.
For more information on safety hints when buying, using or storing decorative lights visit Electrical Safety Queensland