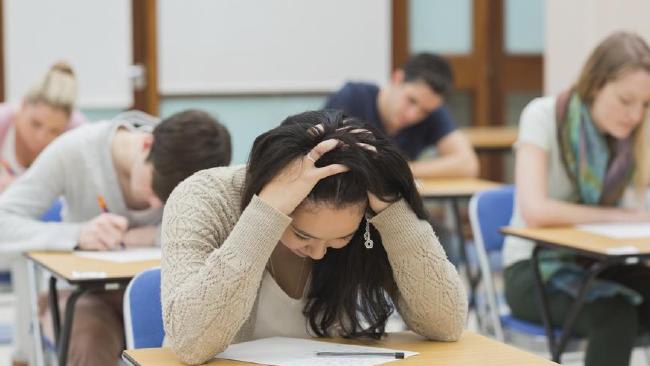 Queensland students crack under weight of exam and homework expectations
Mental health professionals are gearing up for a surge in tens of thousands of Year 12s looking for help to cope with exam stress.
Youth service ReachOut.com has revealed they are expecting somewhere in the vicinity of 80,000 teens who feel exam stress is pushing them to the brink to seek their services as study and homework pressures ramp up this semester.
HELP AT HAND: How to deal with exam stress
Research shows one in five Year 12 students have considered suicide or self harm because of exam and homework pressure.
Half felt too much was expected of them in their final year of school.
The figures coincide with the national launch of the Theres Life After Year 12 Exams campaign today, fronted by Prime Minister Malcolm Turnbull and other notable Australians.
The push is about consoling the more than 220,000 young Australians ? including 40,000 in Queensland ? who will soon sit their Year 12 exams.
ReachOut chief executive Jono Nicholas said children were turning to No Doz to help with study and becoming physically ill because of the weight of the workload upon them.
Young people would otherwise be facing some quite significant issues and you put this added pressure of Year 12 exams on them and it just tips them over the edge, he said.
Mr Nicholas said the fear of being judged combined with a sense that these exams would define their future.
You overlay that sense of expectation and for many young people who are worried theyre not doing well, worried that theyre failing, may actually see themselves as a failure and that can certainly lead to things like suicidal thoughts and other sorts of behaviours, he said.
For some of those facing the stress of exams, parents and schools made the situation worse when they viewed students success as an extension of their own.
Mr Nicholas said todays campaign pointed out that exams were important, but did not define a persons whole life.
In YouTube videos, Mr Turnbull, Opposition Leader Bill Shorten and other high-profile, successful people from different industries reflect on their own exam period, and tell teens not to sweat it.
Theres no point being anything other than chilled when you do the exam, Mr Turnbull says.
ReachOut.com has fact sheets on feeling and managing school stress and forums for young people to connect with others going through the same thing.
The service also provides mobile phone apps that teach calming techniques and ways to deal with worry.
Mr Nicholas said it was important to recognise the differences between short-term stress, and seek professional help if there were other odd signs.
If you or anyone needs help with stress or mental health issues call Lifeline on 13 11 14
Source: Courier-Mail