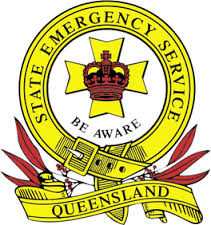 Queensland SES Week launch celebrates organisations 40th Anniversary
Queenslands Orange Angels were centre-stage in Bundaberg today with the official launch of SES Week by Emergency Services Minister Jo-Ann Miller and Acting Queensland Fire and Emergency Services Commissioner Mark Roche.
Minister Miller said this years SES Week would be particularly significant with 2015 marking the 40 year anniversary of the organisation in Queensland.
SES Week is a national celebration to recognise the dedication and commitment of the remarkable people that make up this essential service," Minister Miller said.
Across Queensland there are more than 5,900 active SES volunteers operating out of 316 SES Groups. On any given day, they are out and about going above and beyond the call of duty to assist those in our community who need a helping hand.
Already this year Queensland SES members have logged a total of 11,500 operational hours and 78,000 hours of operational support, which includes training and community engagement activities.
We would be lost without the State Emergency Service. For four decades, SES volunteers have been the lifeblood of our communities. They help us out when Mother Nature Strikes, they assist after traffic crashes and theyre the first ones out searching when someone goes missing.
A 40 year anniversary commemorative book was also launched at the event, with the Minister handing the first copy to SES volunteer Kenneth Litzow (Bundaberg Regional SES Unit) who has been a member of the SES for 40 years.
Minister Miller and Member for Bundaberg Leanne Donaldson also handed over a new flood boat to the Moore Park SES Group at the event.
This new 4.6 metre swift flood boat is much-needed and Im glad the Palaszczuk Government has been able to deliver it for our community, Ms Donaldson said.
The requirement for the flood boat was identified after the community became isolated by floodwaters during the 2013 Bundaberg floods and will better enable the Moore Park SES Group to deliver assistance to the community during flood events
Over the next week I hope locals will take the time to either visit our local SES Group or jump online and read up about what it takes to be a volunteer.
The Palaszczuk Government deeply appreciates the hard work of each and every one of our SES volunteers.
SES Week 2015 runs from 17?25 October. Throughout the week, SES Week Regional Awards presentations will be held across Queenslands seven regions recognising SES volunteers for outstanding and distinguished service over the past year.
The Queensland State Awards Ceremony will be held in Brisbane on Sunday 25 October announcing the Queensland SES Member of the Year, Unit or Group of the Year and Operational Response of the Year.