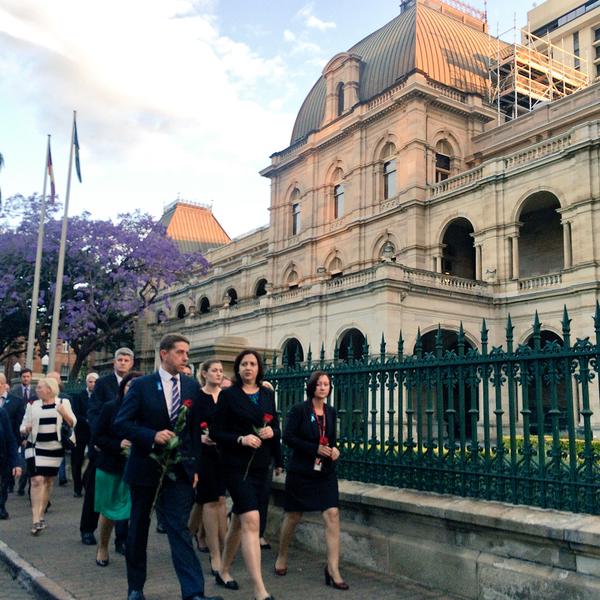 Queensland Parliament passes new domestic violence laws granting victims 'special witness' status
Victims of domestic violence will no longer have to face their alleged attacker in court under laws passed in Queensland.
Minister for Women Shannon Fentiman said victims would automatically have "special witness" status in court.
"Imagine the bravery it takes to stand up to a violent partner, only to find you have to give evidence in front of them in court," she said.
The legislation also increased maximum penalties for repeated breaches of domestic violence orders to three years' jail for first-time breaches and five years' jail for subsequent breaches.
An independent Family and Domestic Violence Death and Advisory Review Board will be established to identify systemic issues in delivering domestic and family violence services.
Furthermore, Attorney-General Yvette D'Ath said there would be specific notes on a person's criminal history for domestic violence-related offending.
"The legislation will ensure domestic violence-related offences can be recorded by the court to reveal repeated family violence offending," she said.
"This will help our judges and magistrates to become aware of repeat or problem behaviour before it escalates."
Parliament rose early on Thursday so MPs could take part in the "Enough is Enough" rally.
Politicians from both sides carried red roses as they walked from Parliament to a square in Brisbane's CBD.
Diane Mangan from support group DV Connect also attended the rally.
"We hold red rose rallies every time a person dies in Queensland," she said.
"But this is just a more prominent version of it and the purpose is to show respect, frustration and a wanting, a desire to do something about it."
The Queensland Government is implementing all recommendations in the Not Now, Not Ever report handed down earlier this year.
Source: ABC News