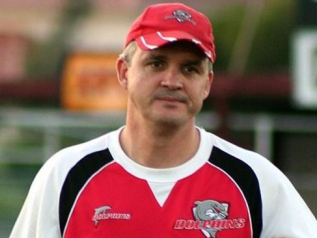 Queensland Cup side Redcliffe Dolphins not worried by strong speculation Anthony Griffin will join Penrith Panthers in 2016
You would expect panic and chaos at the Redcliffe Leagues Club with strong speculation Anthony Griffin will become the head coach at Penrith Panthers. But, it is quite the opposite.
Less than two weeks out from the start of preseason training, the Dolphins thought they were out of the woods from their high-profile coach being lured by an NRL club.
But Penriths decision to cancel the last year of coach Ivan Clearys contract for 2016, opened up the position for Griffin, which he is expected to take this week.
Chief executive Tony Murphy has no hard feelings if Griffin is to replace Cleary, instead taking a philosophical approach.
Everything happens for a reason, he said.
Griffin had signed on as head coach with the Queensland Cups Redcliffe side for 2016 ? the same club he first joined in 1995 as a junior coaching and development manager before delivering a first-grade premiership to the Peninsula in 2006.
Dolphins general manager Grant Cleal said on Tuesday afternoon, nothing had changed with their head coach position but expected Griffin to make the move south.
If it happens, Cleal said the club was happy for Griffin to be given another opportunity in the NRL.
Thats what our level of competition is for ? players and coaches want to be at the highest level ? and we are a development club, the Intrust Super Cup is a development competition, Cleal said.
So when it happens, we cant complain.
Cleal said the club had a plan B and C when Griffin was linked to the Newcastle coaching job, which they would now revisit.
We wont make a rash decision; we have to get the right guy in that role and if that means we have to start preseason (on November 2) without a coach, then that is what we will do, Cleal said.
We have a really good group of support staff, including Tony Guilfoyle.
Cleal praised the hard work of Griffin, who has formed a strong playing roster for 2016.
He has done a lot of work in the past couple of months building the squad, re-signing players and has held meetings with development staff.
Even if we dont have him here, he has still achieved a fair bit.
The work he has done wont make it easy for a new coach, but would make it a smoother transition.
Im excited; I think we will have a good season.
Anthony Griffins resume
Junior coaching and development manager at Redcliffe Dolphins in 1995
After coaching Dolphins colts to a premiership in 1997, he joined Melbourne Storm working up to NRL assistant coach
Spent a year with Souths Logan in 2004 after his time at the Storm
Returned to Redcliffe Dolphins as head coach in 2005 until 2007, including winning the 2006 premiership
Under-20s coach with Brisbane Broncos in 2008, before becoming NRL assistant and NRL head coach until end of 2014 season
Consultant with Intrust Super Cup club Central Queensland Capras in 2015
Head coach for Redcliffe Dolphins in the Intrust Super Cup for 2016
Source: Quest News