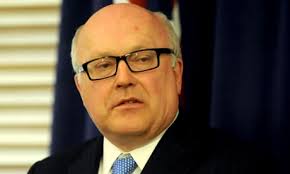 Government to introduce new anti-terror laws
The Federal Government is set to introduce new counter-terrorism measures, which could lower the age for teenagers who can be subject to control orders.
It means teenagers as young as 14 could be required to wear a tracking device or remain in a premises for up to 12 hours, if suspected of being involved in a terror plot.
New South Wales Premier Mike Baird is also calling for an extension for terror suspects to be held without charge from 14 days to 28.
It's the fifth instalment of counter-terror laws by the Government and follows the fatal shooting of New South Wales police accountant Curtis Cheng by 15 year old Farhad Jabar in Parramatta.
Attorney-General George Brandis says the draft laws were developed in conjunction with New South Wales and other states and territories.
'As the threat evolves so will our response to ensure that our police and security agencies have the powers they need to keep our community safe,' he said in a statement.
Australian Lawyers Alliance spokesman Greg Barns told ABC radio: 'If you want to further radicalise people, if you want them feeling they are completely alienated from society and you do that to a 14-year-old kid then you're going the right way about it,
Source: Sky News