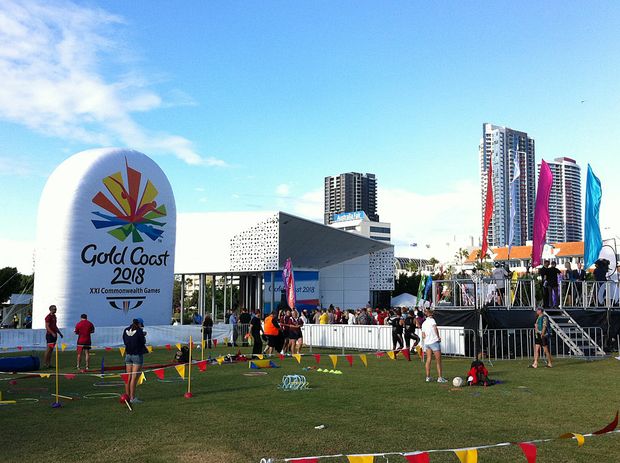 Free public transport for 2018 Commonwealth Games
Commonwealth Games ticket-holders will receive free public transport to and from the Gold Coast during the 2018 Games because there will be no parking for their cars at the new Games facilities on the Gold Coast.
Up to 6500 new car spaces will be built over the next two years in a network of new temporary park and ride areas on the Gold Coast.
The free public transport and new park-and-ride stations was confirmed on Thursday by the Gold Coast 2018 Commonwealth Games Corporation, GOLDOC, which are in the early stages of negotiating how the tens of thousands of sports fans will get from venue to venue in April 2018.
"Each spectator ticket will include access to free public transport within a defined area to enable travel to and from the event, which will include trips between Brisbane and the Gold Coast," GOLDOC chief executive Mark Peters said.
"This includes to competition events, as well as the opening and closing ceremonies," he said.
There are 18 Commonwealth Games venues on the Gold Coast stretching from sites at Coomera, Oxenford, Labrador, Southport, Carrara and down to Broadbeach and Currumbin.
Shuttle buses to link from new park-and-rides to Games venues
Early planning shows sports fans arriving at train stations, then jumping on shuttle buses to take them to the sports venues, similar to other Commonwealth Games.
The idea is to discourage sports fans from driving their own cars.
"Some Games park-and-ride facilities may be temporary extensions to existing park-and-ride facilities; while others may be in new locations," Mr Peters said.
"Sites under investigation are generally not at railway stations, because existing rail park-and-ride spaces will continue to be required for background traffic during the Commonwealth Games."
Where will the new Gold Coast park-and-rides be built?
Mr Peters said the new park and ride stations will be close to a number of venues, so the shuttle buses from one park and ride can "feed" spectators to a number of Games venues.
"Current planning is for the park-and-ride sites to be dedicated to service a group of nearby venues," Mr Peters said.
"Dedicated shuttle buses will transport spectators and workforce between the park-and-ride sites and that group of venues," he said.
In some cases the Gold Coast light rail network, which now runs from northern Southport to Broadbeach will provide a coastal spine to this network of shuttle bus services.
One new park and ride will be built at the Parkwood station off the Smith Street (exit 66) exit from the Pacific Motorway in the Gold Coast light rail stage two project from Helensvale to Southport.
Train stations will be hubs for shuttle buses to get to the sports venues
? Coomera Rail Station for a shuttle to the Coomera Gymnastics and Netball Finals venue;
? Helensvale Rail Station for a shuttle to the Oxenford Boxing, Table Tennis and Squash venue, a shuttle to the Labrador Hockey venue and a shuttle the Southport Aquatics, Triathlon and Marathon venues;
? Nerang Rail Station for a shuttle to the Carrara venue for Opening and Closing Ceremonies, Athletics, Weightlifting, Wrestling and Badminton, a shuttle to the Nerang Mountain Bike venue, and a shuttle to the Broadbeach venues for Lawn Bowls, Netball Preliminary Rounds and Basketball Finals;
? Robina Rail Station for pedestrian access to the Rugby Sevens venue; and
? Varsity Lakes Rail Station for a shuttle to the Currumbin Road Race and Time Trial cycling events
Extra buses bought to the Gold Coast
Extra buses ? other than the Gold Coast's existing Surfside services ? will be leased and bought by the state government to the Gold Coast to provide those shuttle services to the Games venues.
"Transport and Main Roads and GOLDOC intend to procure a significant fleet of additional buses and coaches to run the GC2018 shuttles," Mr Peters said.
"There will be shuttles that run from existing train stations to venues as well as shuttles from the proposed park-and-ride sites to venues," he said.
"The shuttles will be additional services with a fleet of additional buses brought onto the Gold Coast, and operated in addition to the existing TransLink Surfside services."
Transport planners are considering making the existing Gold Coast public transport more frequent, Mr Peters said.
All extra costs are still be determined, but will be met by state and federal governments.
Uber likely to expand on the Gold Coast
Ride-sharing app Uber is tipped to be recruit extra drivers for the Gold Coast with sources indicating there are only 300 licensed cabs on the Gold Coast to cope with tens of thousands of extra visitors.
Who will be able to use the Gold Coast's special 'Games Lanes'
GOLDOC is going to set aside traffic lanes on selected during the Commonwealth Games in April 2018 to let athletes, administrators, games officials, technical experts get through to the venues, Mr Peters said.
"Games lanes are dedicated lanes to ensure that those competing, adjudicating and reporting on events can arrive at venues on time to perform at their best," he said.
"Therefore, they will be open to athletes, technical officials, games officials and accredited media. "They will be open to authorised vehicles that have the appropriate accreditation permits displayed."
Will cyclists be able to use these Games Lanes during the 'Games
"That is yet to be determined," Mark Peters said.
"Further assessment is required considering the safety of cyclists and impact on Games lane operations.
"Cycling will be strongly encouraged to assist with reducing congestion, so every effort will be made to accommodate cyclists either in lanes or on adjacent bike paths."
These Games Lanes will not be exactly identified until closer to the April 2018 Games, but are expected to be in the central hub of venues.
Source: Brisbane Times